Super Eagles' Keeper, Okoye Reveals Why He Chose Nigeria Over Germany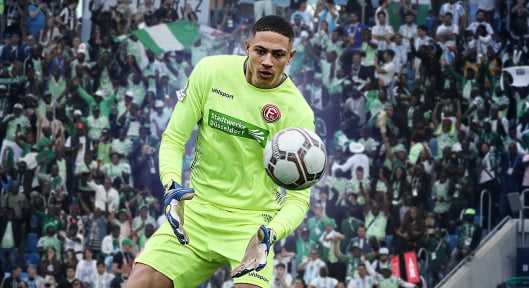 Germany born Nigerian Super Eagle's goalkeeper, Maduka Okoye, has made known his intention to join the super eagles instead of opting for his home national team.
The goalkeeper revealed in an interview released online that he only followed what his heart convinced him to do.
He said;
"My opinion and my advice is to follow your heart, you have to feel it, where the love is. I felt the love in Nigeria and I feel like a Naija boy, that's why I chose Nigeria over Germany".
Naija News recalled that Maduka was reached out to three month ago by Eagle's coach, Gernot Rohr for their game against Ukraine, and also featured him in the Super Eagles match against Benin and Lesotho, for the 2021 Africa Cup of Nations qualifiers.
Maduka while answering questions in an interview with the Super Eagles Media Team via YouTube, he stated that he felt great when he was called to come and keep for the eagles. That it was a pleasure for him to be considered feat to keep for the team.
"I felt great after I got my first call-up to the Super Eagles, it was a pleasure. It's a big step for me in my football career. "With the first call-up I had a bit of problems but after that for the Ukraine game everything was set up and I prepared well. "I couldn't wait to get to the Super Eagles, everything went well. Thank God."
Meanwhile, Naija News had reported that Gernot Rohr has been ranked 19th in the top twenty national team coaches across the world, released by German-based organization.
The position is jointly occupied with Rohr by six other coaches.
Rohr in his 49 competitive matches as Nigeria's coach has racked up 59.12 per cent wins, losing only nine times and drawing 11.
He also led the Super Eagles to a third-place finish at the 2019 AFCON.