Gov. Fayemi Reacts As Federal Government Declares Amotekun Illegal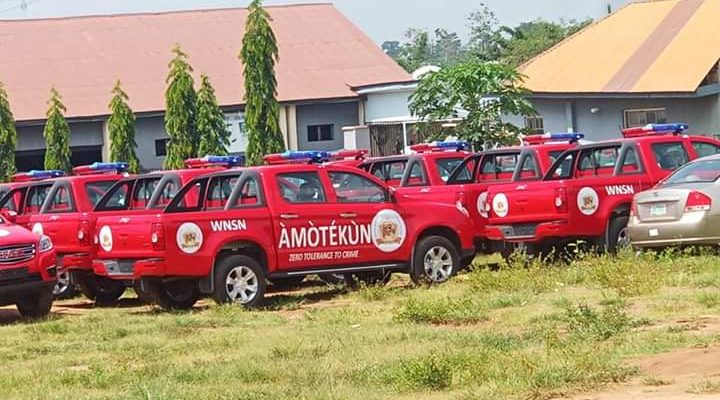 Southwest Governors To Respond To FG On Amotekun
Governors of the South-West Region in Nigeria are studying the recent pronouncement by the Federal Government which declared Operation Amotekun illegal.
This was revealed by the Ekiti State Governor, Kayode Fayemi, on Tuesday when he was asked by newsmen at a press dinner with the media in the state to react to the decision of the Federal Government to outlaw Operation Amotekun.
Naija News recalls the South-West governors set up the regional security outfit codenamed, Operation Amotekun to tackle issues of insecurity in the region and allay the fears of the people.
However, the federal government in a statement released through the office of the Attorney General of the Federation and Minister of Justice, Abubakar Malami on Tuesday, declared the security outfit illegal, noting that security is an exclusive reserve of the federal government as constitutionally entrenched.
Responding to the request for a reaction to the development, Governor Fayemi said the governors in the region would have to review the matter before declaring a stand on the federal government's position.
"I don't have an answer to this individually because I have not been adequately briefed on the new stand.
"I have just heard of that from you (newsmen) now. I will try to find out the position of the governors of the South West states. You know I do not speak for the governors. "If what you are saying is true, there will be an appropriate reaction to it," Fayemi stated.
Meanwhile, as earlier reported by Naija News, a leader of the Afenifere socio-political organization, Chief Ayo Adebanjo, has opined that the federal government has no right to declare Amotekun, the south-west security outfit, as illegal.
He also said the federal government ought to have gone to the court if it had anything against the outfit as similar paramilitary organizations are operating in the north, wondering why the one in the south is considered illegal.
Source: Naija News