2023: I Never Ask Buhari To Pick His Successor, I Was Misquoted – Bakare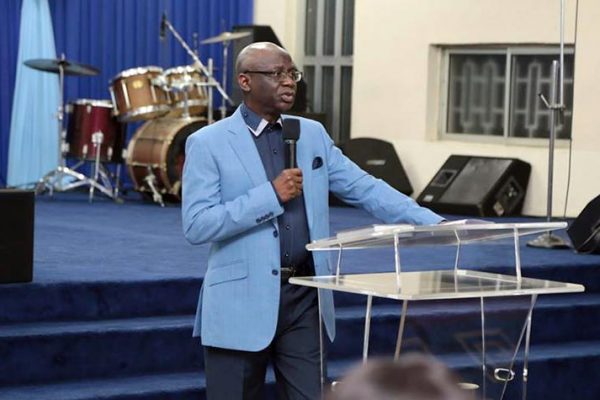 Following reports and arguments that the Senior Pastor of Latter Rain Assembly (LRA), Tunde Bakare, has asked President Muhammadu Buhari to select his successor for 2023, the clergyman has clear the air saying he was misquoted.
Reacting to the claims, the clergyman in a sermon he delivered on Sunday, stated that his message on the first service of the year has been quoted out of context. He denied ever asking the President to make him a choice in the 2023 race.
Pasto Bakare in his message entitled 'Much Ado About Succession', last Sunday, said he has been constrained to give some explanation on the Nation address he delivered on the first Sunday of this year.
He said;
"I am constrained to make some brief clarifications due to the unrecognisable reconstruction of my utterances in the media, and the subsequent responses to this distortion,"
"Apparently, and without my participation, it has been interpreted as my asking Buhari to foist his choice candidate on the nation in flagrant disregard of democratic principles. I neither did this nor did I insinuate at any point that Buhari should 'pick' or 'choose' his successor, as some news outlets have conjured."
"My exact words are '…the third pivotal objective of governance should be to build a strong post-Buhari legacy facilitated by accurate succession… Therefore, even as we build institutions of democratic governance, a key responsibility that history has bestowed on Buhari at this turning point in our journey to nationhood is to institutionalise systems of accurate succession that will build and sustain the Nigeria we desire. This is a task that must be done."
"My overriding concern in offering propositions was to forestall the emergence of a new iteration of recycled enemies who will once again seek to lock us into a cycle of doom and gloom at the turn of a new decade."
He added, "If we have been excellent at anything in Nigeria, it has been at creating a succession pipeline of the worst of us ruling over the best of us. On my part, I remain committed to facilitating, however, God enables me, the emergence of the best, brightest, fittest and most competent Nigerians across every gamut of our national life. I am more invested in discussions on the way forward and will thus not address individual comments, particularly as they were in response to words I simply did not utter or insinuations that were the concoctions of jaundiced imaginations."
It could be recalled that the Senior Pastor of Awaiting The Second Coming Of Jesus Christ, Adewale Giwa, has advised President Muhammadu Buhari against thinking of who succeeds him in 2023.
Pastor Giwa said things were yet to turn around for Nigerians so it would be wrong to talk about future elections.
According to the clergyman, Nigerians are still not satisfied with the current economic situation of the country.
He slammed Pastor Bakare for associating with a "bad tree" and refusing to speak truth to power.