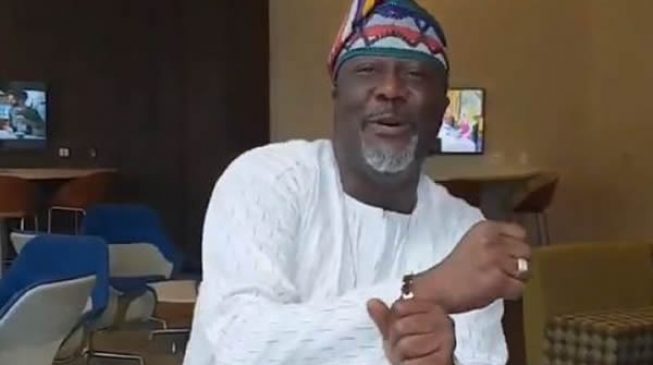 Series of reaction on Twitter have followed a now trending video which shows a Nigerian Muslim man praying for some politicians, including Dino Melaye.
The video which was posted on Wednesday by Dino Melaye, former Senator and member of the National Assembly, representing Kogi West Senatorial district, has garnered comments from different persons, as some rained insult on the man for such kind of prayer.
Dino while sharing the video wrote "I don't know you but God knows you. Thank you so much and amen to your prayers."
"Oh God, standing here at your merciful door, i am here to stand as counsel for your servant Dino Melaye at your court, He has been deprived of his right, you are the only one who rules without ' 'i plead with you to please in your mercy intercede for him, deliver him from the hand of his tormentors."
"Lawyers have tried and failed, the court failed him, I am here as his lawyer before your merciful court seeking your mercy on him. Please be merciful to him and deliver him, help him overcome the tribulations." He prayed in the Hausa Language.
See reactions below;
I dont know you but God knows you. Thank you so much and amen to your prayers pic.twitter.com/7VYaoybZix

— Senator Dino Melaye. (SDM) (@dino_melaye) January 8, 2020
Shame on you, the person in this video???

— Ibrahym Abubakar Pantami (@IbrahymPantami) January 8, 2020
When we come to a point where we put aside religion and nepotism, Nigeria and the world will live together in peace and harmony.

Don't pray against another man because he's not of your faith. Pray for all. Let love lead. We all have our mistakes but pray for all. Thanks sir

— Taiwo Balogun (@psttaiwobalogun) January 8, 2020
You see now. Who says Nigeria is not one? Gather here I need to talk right inside your brain. God bless ? this man. One Love!

— olamideolaomi (@OlamideOlaomi) January 8, 2020
You dont know him. Lol. Joke of the decade. Continue giving them money to go pray for your derailed political career.

— Ibn Ibn Zubair (@olat087) January 9, 2020
That's how real Men react to problems not your style that you think everything is Aritmatic

— @official Muhammad Awwal (@mahommedawwalS2) January 9, 2020
Only a good man has people he doesn't know praying for him! I missed you by the whiskers when you came to Atlanta…you are one man who's hands I would love to shake for your bravery and fight for Nigerians! There are not too many in Nigeria but you are one of the few!

— Osa ACA (@Osa19731003) January 9, 2020
One man's poison is another man's meat…one man's worst enemy is another man's best hero or mentor.

— Emmanuel Osilama (@Osilama_senior) January 9, 2020
Follow @naijanews