Ex-NSA Dasuki Reveals Next Plans After Release From 4 Years Illegal Detention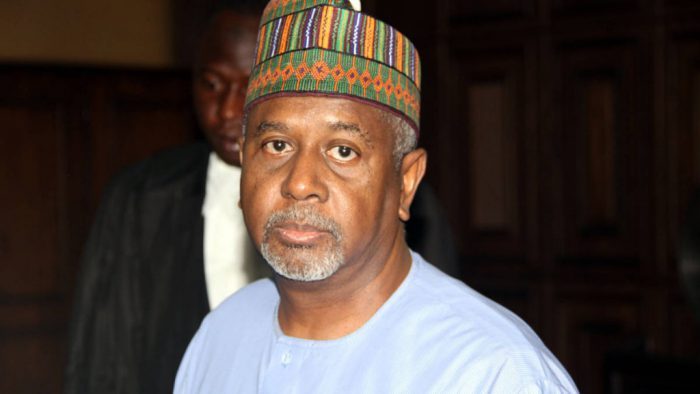 A former National Security Adviser (NSA), Colonel Sambo Dasuki, who recently regained freedom after fours in detention, has revealed that he would not grant any media interview.
Dasuki, who is the Prince of the Sokoto caliphate, made this revelation in an interview with DAILY POST through an associate, Thursday night, December 26.
Naija News reports that the Federal Government on Tuesday ordered the release of Sowore and Dasuki, from detention. Until his release, Dasuki had been in illegal detention for four years.
The directive was given by Abubakar Malami, the Attorney-General of the Federation, in a statement made available to journalists. Malami said the decision to release them was necessitated by compliance with the bail granted the duo by the court.
"The Office of the Honourable Attorney General of the Federation has reviewed the pending criminal charges against the duo of Col. Sambo Dasuki (rtd.) and Omoyele Sowore. Whilst the Federal High Court has exercised its discretion in granting bail to the Defendants in respect of the charges against them, I am also not unmindful of the right of the Complainant/Prosecution to appeal or further challenge the grant of bail by the court having regards to extant legal provisions, particularly Section 169 of the Administration of Criminal Justice Act, 2015," the statement read.
However, speaking after his last interview with VOA on his next plans since regaining freedom, a source revealed that the former NSA intends to pay his last respect to his late father who passed away weeks after his initial arrest.
According to the source: "He is resting and has foreclosed the possibility of any media chat. Even the story by VOA did was not a direct interview. They only used excerpts of what he said in presence of his family when he returned home", the source added.
"Dasuki also declared that he is preparing for trial. He is waiting for the next date and would definitely attend this time. You would recall he boycotted court sittings because the government failed to comply with bail orders.
"Furthermore, Dasuki would for now only be around his family members, he is receiving very limited visitors. He expressed desire to visit his late father's burial ground to pay last respect and also pray."
The source added that "Since his freedom, Dasuki has remained calm and consistently ascribed his ordeal to God's will. No blame games or accusations."
Naija News recalls that Dasuki, who is a  former military officer, was not allowed to attend the burial of his late father, Ibrahim Dasuki.
The late Pa Dasuki was buried at Hubbaren Shehu, Sokoto, north-west Nigeria after a funeral prayer at the Sultan Bello Juma'at Mosque.
Pa Dasuki, who was the 18th Sultan of Sokoto died at the age of 93 at the Nigeria-Turkish hospital, Abuja, Nigeria's capital after a protracted illness.
Download NAIJA NEWS app: