UPDATE: Man On Telecom Mast Protest In Taraba, Vow Not To Descend After 24 hours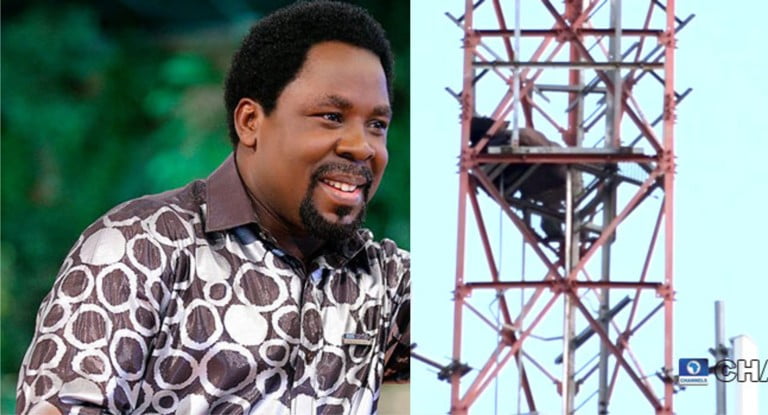 The yet to be identified man who climbed a telecommunication's mast in Jalingo, Taraba state capital, had continued to vow that he will not to descend until he sees a famous Nigeria's gospel preacher T.B Joshua.
Locals say that the man ascended the mast on Friday at New Era area in Jalingo, singing gospel songs.
Residents who are neighbors of the mast said the man climbed up at around 3 pm on Friday afternoon with his bag without giving any reason.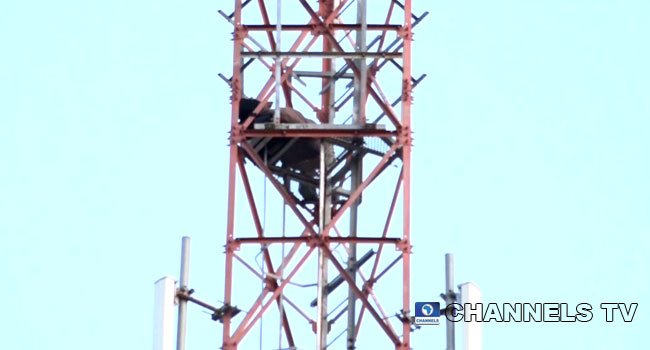 But later the man threw a letter without identifying himself which contained that  " I have seen Jesus Christ and no one will ask me to come down from this mast unless T.B Joshua," said Mr. Michael Daudu and Victoria Sunday who are residents in the area.
The eyewitnesses also said that they have seen the man in the early morning of Saturday brushing his teeth and later ate bread with pure water while on the mask.
The Chairman of local vigilantes in the area, Innocent John who expressed shocked, ''This is first of its kind in this community, so want concern authorities to swiftly act,'' he urges.
However, as efforts to speak to a police spokesman in the state David Misal proved abortive,  the man remained on top of the mast with police sighted guarding the place and people were trooping into the community to see for themselves.
Naija News had earlier reported that the man threatened to jump off the mast except Prophet TB Joshua, the founder of Synagogue Church of All Nations (SCOAN) intervenes in his situation.