Super Eagles, Falcons Final 2019 FIFA Ranking Revealed (Full List)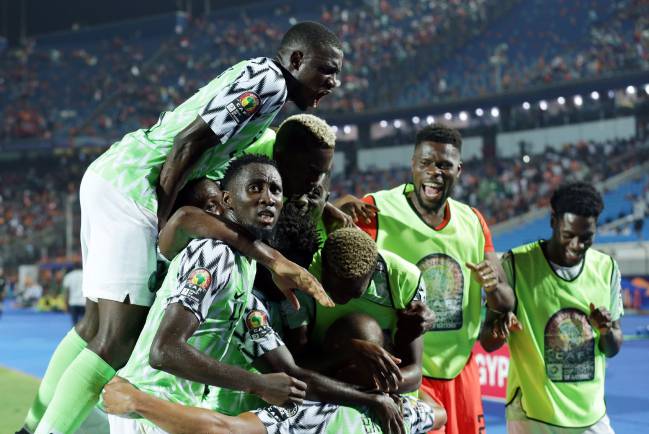 World football governing body, FIFA, has released its final ranking for 2019 with the Super Eagles of Nigeria ending the year on 31 in the World Football Ranking for the month of December.
Naija News understands that the Super Eagles garnered 1,493 points, same as they had in the November ranking.
Nigeria remained third in Africa just behind Senegal and Tunisia.
Meanwhile, the Red Devils of Belgium remained number one in the FIFA/Coca-Cola World Ranking.
World champions France remain in second place ahead of Brazil in third, the positions they held in December 2018.
England have climbed one place in 2019 to end the year in fourth, with Uruguay moving up to fifth on the back of a two-spot rise.
Argentina (9th) and Colombia (10th) are also in the top 10 at the expense of Switzerland (12th) and Denmark (16th).
Both have slipped four and six places respectively over the course of the year.
Men's ranking:
1 Belgium
2 France
3 Brazil
4 England
5 Uruguay
6 Croatia
7 Portugal
8 Spain
9 Argentina
10 Colombia
11 Mexico
12 Switzerland
13 Italy
14 Netherlands
15 Germany
16 Denmark
17 Sweden
17 Chile
19 Poland
20 Senegal
21 Peru
22 USA
22 Wales
24 Ukraine
25 Venezuela
26 Austria
27 Tunisia
28 Japan
29 Turkey
29 Serbia
31 Nigeria
32 Slovakia
33 Iran
34 Republic of Ireland
35 Algeria
36 Northern Ireland
37 Romania
38 Russia
39 Iceland
40 Korea Republic
40 Paraguay
42 Australia
43 Morocco
44 Norway
45 Czech Republic
46 Costa Rica
47 Ghana
48 Jamaica
49 Bosnia and Herzegovina
50 Scotland
Women's ranking
1 – USA
2 – Germany
3 – Netherlands
4 – France
5 – Sweden
6 – England
7 – Australia
8 – Canada
9 – Brazil
10 – Japan
11 – Korea DPR
12 – Norway
13 – Spain
14 – Italy
15 – China
16 – Denmark
17 – Belgium
18 – Iceland
19 – Switzerland
20 – Korea Republic
21 – Austria
22 – Scotland
23 – New Zealand
24 – Russia
25 – Colombia
26 – Mexico
27 – Ukraine
28 – Czech Republic
28 – Finland
30 – Poland
31 – Portugal
32 – Vietnam
32 – Republic of Ireland
34 – Wales
34 – Argentina
36 – Chile
37 – Costa Rica
38 – Thailand
39 – Nigeria
40 – Chinese Taipei
41 – Serbia
42 – Uzbekistan
43 – Romania
44 – Myanmar
45 – Hungary
46 – Papua New Guinea
47 – Slovakia
48 – Paraguay
49 – Cameroon
50 – Slovenia