Why DSS Can't Release Omoyele Sowore, Malami Replies Falana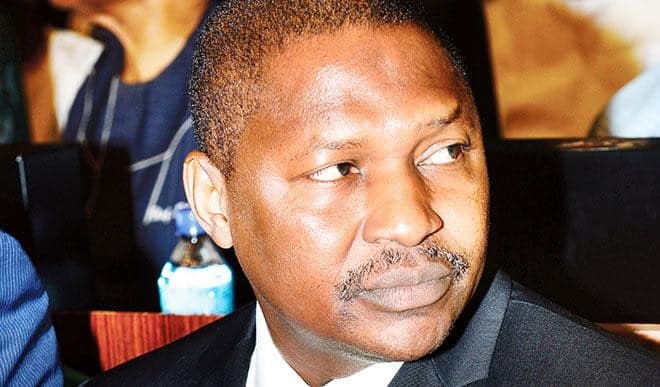 The Attorney-General of the Federation and Minister of Justice, Abubakar Malami (SAN), has said he cannot order the Department of State Services (DSS) to release Omoyele Sowore.
The AGF was reacting to a call by the counsel to Sowore, Femi Falana (SAN), asking him to order the secret police to release the activist.
Naija News reports that Femi Falana revealed that when two lawyers in Sowore's defence team visited the DSS headquarters in Abuja to demand the activist release, the secret police advised them to direct their request to Malami.
In a letter to AGF Malami titled, 'Request for the release of Omoyele Sowore from illegal custody', Falana said, "Following the announcement of your decision to take over the case of the Federal Republic of Nigeria V Omoyele Sowore and another, two members of the legal defence team visited the headquarters of the State Security Service on December 13, 2019 to demand the immediate release of Sowore from illegal custody.
"Our colleagues were however advised to direct the request to your office in view of the fact that you have taken over the case from the State Security Service."
Reacting in a statement by his Special Assistant on Media and Public Relations, Dr Umar Gwandu, Malami said he could not take a unilateral decision on the release of Sowore without recourse to the court were Sowore is being prosecuted on charges of treasonable felony, among others.
"When parties submit their issues for determination to a court of law, they lack exclusivity of decision over such issues without recourse to the court."
"We remain guided by the established tradition and will not take a unilateral decision without recourse to the rule of law," Malami added.
Recall that the DSS had released Sowore and co-defendant Olawale Bakare after spending 124 days in detention.
This was following Justice Ijeoma Ojukwu's ruling ordering DSS to release him in the next 24 hours.
However, the secret police re-arrested Sowore in the premises of the Federal High court, Abuja and reportedly took the activist to the DSS headquarters.
The DSS later denied reports that its operatives invaded the courtroom to arrest Sowore.
The rearrest of the activist drew widespread condemnations both locally and internationally.
Following pressure from the international community, AGF Malami directed the DSS to transfer Sowore's case file to his office.
Naija News understands the directive was contained in a letter dated 11th December 2019 and addressed to the Director-General of the State Security Services, National Headquarters Abuja.
Source: Naija News