FIFA Files Legal Suit Blatter, Platini Over $2m Fraud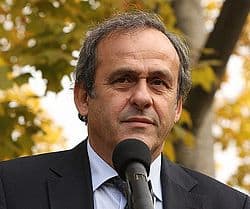 FIFA has filed legal claims against former senior figures Sepp Blatter and Michel Platini in a bid to claw back an "undue payment" made more than eight years ago.
Naija News Understands that Football's world governing body had been advised by its own governance committee to go after the two million Swiss francs (€1.83m) which was paid to Platini and approved by Blatter while president of FIFA in early 2011.
The governance committee pointed out to the FIFA administration that the statute of limitation to seek compensation was almost up, with the deadline falling on 31 December.It is understood the length of time it took to offer the advice was caused by a protracted criminal investigation into the matter by the Swiss Office of the Attorney General.
It was announced in September 2015 that the payment was being investigated, but after nothing further was said by the OAG the committee felt compelled to act.
FIFA has now acted on the committee's advice and said in a statement on Monday that if and when the money was recovered, it would "be fully channelled into football development, which is where (it) should have gone in the first place". Both men were initially suspended for eight years in December 2015, with both sanctions reduced to six years on appeal.
speaking on the allegation Platini claimed the money back paid for work he conducted for FIFA between 1998 and 2002.