Exposed! How Some APC Governors Tried Kicking Out Oshiomhole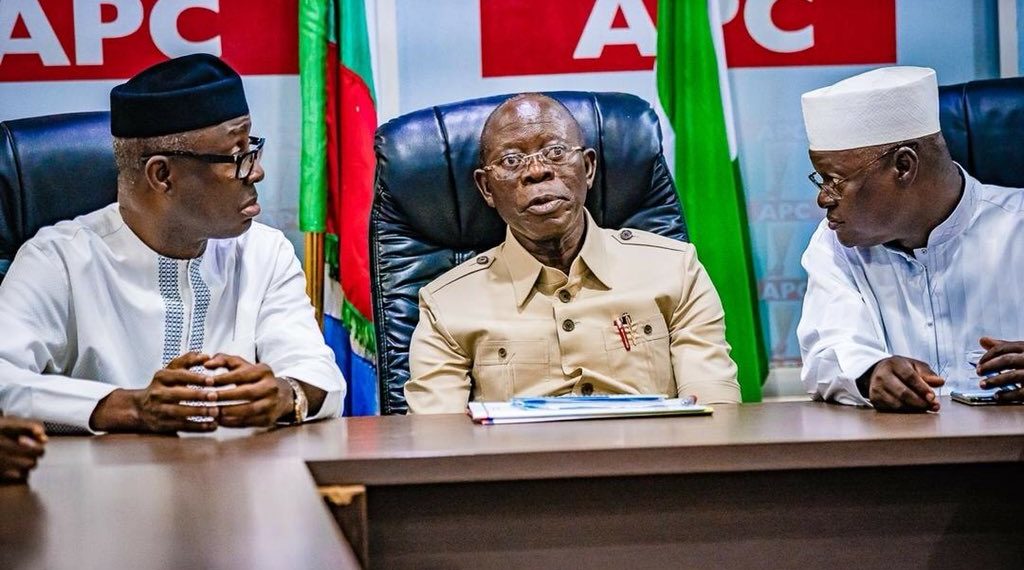 Some governors of the ruling All Progressives Congress (APC) in a meeting with President Muhammadu Buhari has reportedly told him of their resolve to get the National Chairman of the party, Adams Oshiomhole, sacked.
It was gathered that the APC governors who want Oshiomhole sacked include Governors Kayode Fayemi (Ekiti), Nasir El-Rufai (Kaduna), Abubakar Badaru (Jigawa) and Atiku Bagudu (Kebbi).
However, it took the intervention of Governor Babagana Zulum of Borno State to kill their plot when he saw that the quartet wanted to use the other governors to get Buhari's backing for Oshiomhole's removal.
A source told The Nation that the governors see Oshiomhole as an obstacle to one of them running for the 2023 presidency.
"It is all about 2023. They want a pliant person as chairman, someone they can manipulate. That is why they want Oshiomhole out", he told a stunned President Buhari, adding: "They want to hijack the APC for selfish reason."
Pro-Oshiomhole governors at the meeting were, Babagana Zulum, Babajide Sanwo-Olu (Lagos), Dapo Abiodun (Ogun) and Gboyega Oyetola (Osun).
At the meeting with Buhari, Governor El-Rufai reportedly told the president that APC governors have resolved that Oshiomhole should go because he is not running the party well.
Zulum countered: "Who are the APC governors with you? Where and when did we meet to agree that the national chairman should resign?" he asked El-Rufai.
A source privy to the meeting said Governor Zulum told Buhari that El-Rufai and his collaborators had a sinister motive.
"Mr President, you see all these governors seeking the removal of Oshiomhole are doing so because they are aspiring to be President in 2023. This is why they are calling a dog a bad name in order to hang it. Must we destroy the party because of presidential ambition? I think we should be careful.
"I believe our National Chairman is a fair and equitable leader. I have never met him, yet he allowed due process in the party which made me to emerge as the governorship candidate of the APC in Borno State. He knew me during the presidential campaign in our state. He has never asked me for a favour," Zulum was quoted as saying.
It was gathered that the anti-Oshiomhole governors are reportedly plotting on how to get 120 members of the APC National Executive Committee (NEC) to their side.
They are reportedly planning to replace the former Edo State governor with Ex-governor Abdulaziz Yari of Zamfara State or a former aspirant for APC chairman, Mr Sam Jaja.
A party source told the Nation: "I think they are peddling Yari, the choice might be Jaja eventually. They know Yari loves ego-boosting and he has a lot to spend. If Yari is their ultimate choice, they will meet their match in President Buhari, who believes the ex-Zamfara governor must account for his tenure in the state. Buhari has refused to stop the investigation of Yari despite the entreaties of some of these anti-Oshiomhole governors.
"It also does not add up for the President to come from the North-West and the party chairman from the same zone. Yari is just a smokescreen.
"If they are able to convince Jaja to replace Oshiomhole, they must be running the errand of a third force.
"Some of these governors, their allies and foot soldiers are so petty to the extent that they are deploying huge cash to remove Oshiomhole. Edo State Governor Godwin Obaseki, who is having a running battle with Oshiomhole, is said to be one of those funding the project. They have offered some NEC members as much as N500,000 and even infiltrated the National Working Committee ( NWC) of the APC by dangling N10million to N20million to the members. Those offered the huge cash were from both North-Central and South-West.
"A member of the NEC said he was offered N100,000 but he will collect the balance after the removal of Oshiomhole."
Naija News reports that Adams Oshiomhole has been under fire from some members of the ruling party, with a national vice-chairman of the party calling for his resignation.
Oshiomhole has also been at loggerhead with the governor of Edo State, Godwin Obaseki, who is also reportedly working to get the national chairman sacked.
Recall that a chieftain of the APC, Senator Kabiru Marafa, had raised alarm over plots to take of over the affairs of the party by some APC governors.
According to him, the governors want to make President Muhammadu Buhari politically irrelevant before 2023.
Marafa said: "The fight is not against Oshiomole, it is actually against the president himself. It is only that they don't have the guts to say it now, but they will when the time is ripe.
"It is evident that the plot to unseat Comrade Adams Oshiomole by a gang of President Buhari's adversaries has thickened. This plot is merely aimed at hijacking the party structures and handing it over to Yari – who till now is the arrowhead of all the people that harbour a lot of bitterness against the president.
"The Governors in concert with their cronies, within and outside the party, are doing everything possible to hijack the party structures to ensure that the president and his sympathisers are edged out of power equation in 2023."