Marafa Reveals Ex-Governor Set To Replace Oshiomhole As APC Chairman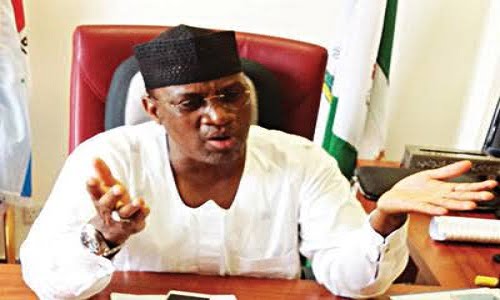 A top member of the All Progressives Congress (APC) in Zamfara State, Senator Kabiru Marafa, has accused some governors of the party of plotting to replace National Chairman, Adams Oshiomhole.
Speaking to newsmen in Zamfara State, the former Senator revealed that the governors are planning to replace Adams Oshiomhole with former governor Abdulaziz Yari.
Marafa, who refused to name the governors, said they want to take over the structure of the ruling party.
According to him, the governors want to make President Muhammadu Buhari politically irrelevant before 2023.
Marafa said: "The fight is not against Oshiomole, it is actually against the president himself. It is only that they don't have the guts to say it now, but they will when the time is ripe.
"It is evident that the plot to unseat Comrade Adams Oshiomole by a gang of President Buhari's adversaries has thickened. This plot is merely aimed at hijacking the party structures and handing it over to Yari – who till now is the arrowhead of all the people that harbour a lot of bitterness against the president.
"The Governors in concert with their cronies, within and outside the party, are doing everything possible to hijack the party structures to ensure that the president and his sympathisers are edged out of power equation in 2023."
Source: Naija News