Sowore vs DSS: Falana Tells AGF Malami What To Do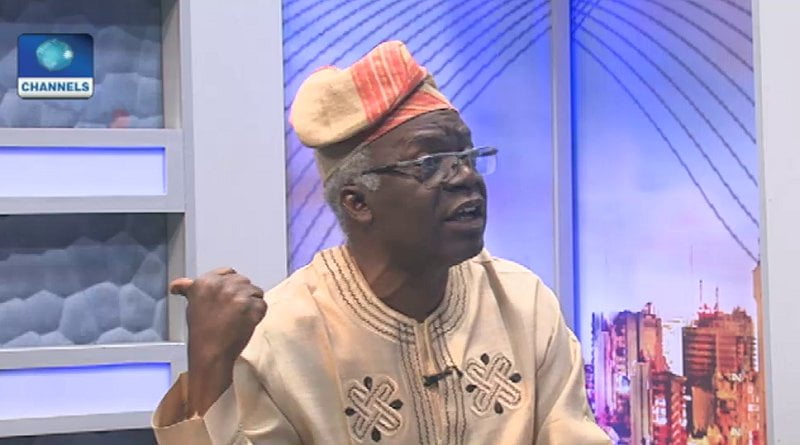 Femi Falana (SAN) has called on the Attorney General of the Federation and Minister of Justice, Abubakar Malami (SAN), to drop charges against Omoyele Sowore and Olawale Bakare.
Naija News reports that the Department of State Services (DSS) last Thursday night had released Sowore and Bakare after spending 124 days in detention.
This was following Justice Ijeoma Ojukwu's ruling ordering DSS to release him in the next 24 hours.
However, the secret police last Friday morning re-arrested Sowore in the premises of the Federal High court, Abuja and reportedly took the activist to the DSS headquarters.
The DSS later denied reports that its operatives invaded the courtroom to arrest Sowore.
The rearrest of the activist had drawn widespread condemnations both locally and internationally.
Following pressure from the international community, AGF Malami directed the DSS to transfer Sowore's case file to his office.
Naija News understands the directive was contained in a letter dated 11th December 2019 and addressed to the Director-General of the State Security Services, National Headquarters Abuja.
Reacting to Malami's directive in a statement of Friday, Femi Falana said there was no evidence to get Sowore and Bakare convicted.
The Senior Advocate of Nigeria (SAN) disclosed that it was the court invasion by the secret police that prompted Malami to take over the case.
Falana said: "Convinced that the pending case would collapse like a pack of cards, the SSS is currently fishing for evidence to nail Sowore.
"In spite of the directive of the AGF to hands over the case, the SSS subjected Sowore to a four-hour interrogation yesterday (December 12, 2019).
"The entire interrogation pertained to Sowore's alleged links with the proscribed Boko Haram sect, IPOB, and IMN which he vehemently denied.
"At Sowore's instance a member of the legal defence team, Mr Abubakar Marshal, witnessed the marathon interrogation. The plan is to charge Sowore with terrorism as a follow-up to the unsubstantiated allegations of a presidential media aide.
"In the light of the foregoing, we urge the AGF to file a nolle prosequi motion to end the macabre dance which has exposed the country to avoidable embarrassment."
The human right lawyer said the action the AGF had taken on the prosecution of Sowore and his co-defendant was not a takeover "because it was the AGF that filed the case of September 20, 2019, and farmed it out to Dr Hassan Liman, SAN".
Source: Naija News