South Africa's Zozibini Tunzi Crowned 2019 Miss Universe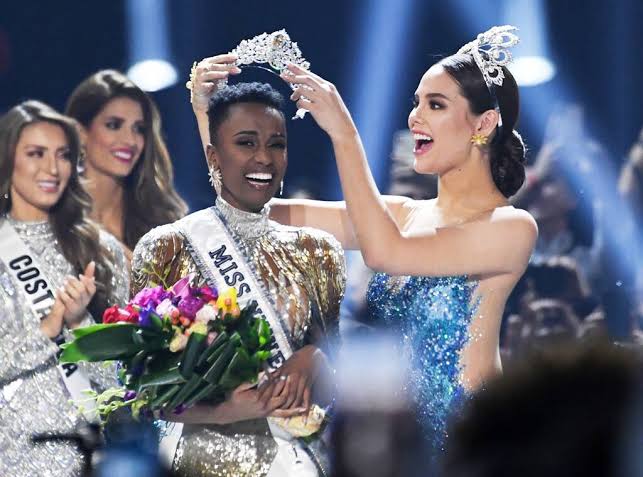 South Africa's Zozibini Tunzi has beaten 89 contestants to be crowned Miss Universe 2019.
Naija News learnt that 26-year-old, Zozibini Tunzi was crowned the new Miss Universe during the pageant held at Tyler Perry Studios in Atlanta, Georgia after excelling through rounds of swimsuit and evening gown struts, questions on social issues and one final chance to explain why she was the right choice.
The new #MissUniverse2019 is… SOUTH AFRICA!!!! ?? pic.twitter.com/gRW8vcuT3A

— Miss Universe (@MissUniverse) December 9, 2019
The two runners-up for the crown were Miss Mexico and Miss Puerto Rico.
The final three were asked on-stage: "What is the most important thing you should be teaching young girls today?"Clad in a striking gold and silver gown, Tunzi answered: "leadership.""It's something that has been lacking in young girls and women for a very long time … because of what society has labeled women to be," she said.
"I think we are the most powerful beings in the world, and that we should be given every opportunity, and that is what we should be teaching these young girls, to take up space," Tunzi continued.
"Nothing is as important as taking up space in the society and cementing yourself."She also explained why she was the right choice to be crowned while speaking on social issues.
"I grew up in a world where a woman who looks like me — with my kind of skin and my kind of hair — was never considered to be beautiful," she said in her last response. "I think it is time that that stops today. I want children to look at me and see my face and I want them to see their faces reflected in mine."
Source: Naija News