Investigation: Check Points Becomes 'Milking Machines' In Adamawa,Taraba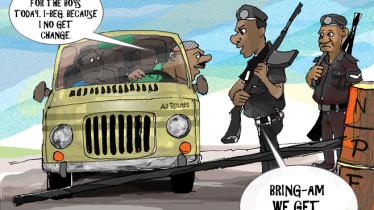 Nigerians continued to complain about the numerous highways on state-federal roads as this, they said, has not only caused hardship for commuters on the roads but serves as a means of extortion by the security personnel. Naija News correspondent writes on the situation in two northeastern states of Adamawa and Taraba.
It was a Market day with traders, motorists busy to reach their destinations for the daily bread. On the roadside two police officers mounted a checkpoint on Wuro-Dole-Pariya Road in Girei Local Government area of Adamawa, the car police used at this checkpoint was a white starlet; and they are busy collecting bribes of  N50  to N200 from drivers, and traders that ply the road.
The driver dutifully gave the N50 while others reluctantly give N100.
As they continued to collect this '' collateral'' drama ensued with passengers when one of the police said they need extra N50 making it N100, a situation that triggers the passengers murmured,''  I think the government has banned bribe giving or taking!''
Like twinkle of an eye, commotion ensued, with a police inspector threatened to shoot them, if they didn't keep quiet and completed the remaining N50 balance.
Indeed, he really made his threat real; he pulled the trigger and before you know he shot two passengers, one on the stomach and the other on the buttocks.  The one-shot on the stomach died instantly. But, the trigger-happy cop attempted to run away, though he was chased by a mob, and was paid into his coins.
While his accomplice runs away and got away from the angry mob and the passenger that was shot on the buttocks was taken to Yola specialist hospital.
The patient simple identified as Mallam Umar later responded to treatment, but the problem he can't foot his medical bills amounting to N6840, and he won't have the means to pay, he was assisted by relatives.
Investigations further revealed that the police authority in the state refused to foot his medical bills, claiming the culprit also died, no vicarious liability?
Check Points-Milking Spot
Reports indicate that in Adamawa and Taraba states commercial drivers, traders, and even passengers are being accosted mostly on market days by armed police officers or soldiers who demand bribes and commit human rights abuses against them as a means of extorting money.
The most common venue for extortion occurs at roadblocks, or Stop and Search Check Points which ostensibly put in place to combat crime.
For instance,  market days of  Ngurore, Mayo Belwa , Mayo-Lope,  Iware, Dan Anacha, Tella, Zing or Apawa the 'bribe collecting officers' could mount checkpoints extorts money from the public while going about their daily lives.
A commercial bus driver Jalo Na'iware alleges that these checkpoints have become a lucrative criminal venture for the routine officers who routinely demand bribes from drivers and passengers alike, in some places enforcing a de facto standardized toll.
'' Those who fail to pay are frequently threatened with arrest and physical harm,'' said Na'iware who was extorted N500 last Thursday along   Apawa-Mayo-Lope road by the Police patrol team.
Just like Na'iware another commercial driver Raphael Richard  said, on Ngurore , Mayo Belwa or Zing market  days , '' Every morning these 'officers' police of anti-robbery units known as SARs and even Soldiers mount  checkpoints  at Yola -Numan or Mayo-Belwa or Zing   express roads.
'' They collect money from road users. They usually demand from N200 to N1000. Some days ago, I witnessed how one of them stopped a Tokunbo car and demanded N10, 000. The driver demonstrated all the valid car documents and tried to settle for N2000. After arguing for about an hour, the group of 'policemen' in black attire (SARs) took the driver to their Hilux, searched him though I can say how much they collected from him.''
A truck driver in Jalingo, Taraba state capital had alleged that both Military and police checkpoints in the two states have become '' money milking Machines.''
The truck driver who pleaded for anonymity stressed that, '' without any remorse, they (soldiers and police) at their checkpoints peg money to be given depending on your truck.
  ''At soldiers checkpoints in Zing or Welcome to Jalingo you must cough huge sum of money or else you will not move an inch.
''They kept brandishing their guns on us, haba as if we are criminals,'' he fumes.
Confrontations Or Denials
Extortion-related confrontations between the police and motorists often escalate into more serious abuses. The police have on numerous occasions severely beaten, sexually assaulted, or shot to death ordinary citizens who failed to pay the bribes demanded.
Like what occurred in Adamawa some months ago, it could be recalled that some months ago a policeman was reported to have shot two persons to death because they refused to bribe him at a checkpoint in Taraba.
The two persons killed include a co-driver of a trailer full of cows and the man in charge of controlling the cows. The event occurred in Chediya village along Wukari- Benue highway when the mobile police officer stopped the trailer driver at the checkpoint and requested the sum of N1000 bribe to allow him to pass.
A witness, Mallam Babba, said that the head driver begged the policeman to collect N500 instead of the usual N1000 because he had exhausted his money at other checkpoints.
According to the witness, the police officer refused to collect the N500 saying the trailer driver was disrespecting him.
The driver then exited the trailer to appeal further. Instead, the police opened fire and killed the co-driver and another man, herding the cows in the trailer.
The angry youth in the community went on a rampage killed the policeman and burnt the police patrol vehicle at the checkpoint.
Pundits are now arguing that with the recent indications, it's clear that the Inspector General of Police's campaign for the reformation of the Nigeria Police Force, (NPF) by dismantling roadblocks may just be a mirage when one considers what some officers serving declared.
In what could be described as deviance, some police officers declared that nobody will stop them from mounting checkpoints or Stop and Search.
The  no -repentant officers who don't want to be named justified their decision on ''lack of welfare and prompt payment of salaries.'' They also claimed that when an officer made the arrest or wanted to enforce the law, there will be directives from above to allow the suspects to go despite the weight of the crime.
"So it is better to collect than to stay there doing nothing as an officer.
'' So you guys you want us to be protecting you free? Many of our colleagues were killed likes fouls on duty none of you even commiserate with the families, but people kept accusing us, even the ogas at the top they too collect.
'' Talk to them first to stop cheating us and pay our salaries promptly as at when due to see wonders !,'' So exclaims  one of the officers.''
A reporter's visit to local markets in the two states also confirmed that virtually on every local market day ''roadblocks and checkpoints'' were mounted and the officers were there dutifully collecting their "Revenue" from motorists, even with the written inscription don't ever give bribe.
Naija News learned that the bribe arrangement was categorized in three ways with different price tags.
It was tagged that officers from divisions obtain between N50 to N100, Area Command Officers obtain between N100 and N200 while the Zone 9 officers collect N200 and above.
"Once you are plying any road, you will meet those officers at the checkpoints, and the only thing you need to check was where they came from and give them their money and drive away," a motorist said.
However, reacting on the allegations both police spokesmen in Adamawa and Taraba, Suleiman Nguroje, and David Misal all denied the allegations. Nguroje warned that the era of impunity and corruption among cops was gone.
"It's embarrassing to see policemen collecting bribes,'' said he.
Corroborating, David Misal said,'' to checkmate this problem in Taraba, the command had issued phone numbers that could be contacted.''
He further stressed that the police boss in the state had kept warning that any policeman found engaged in any form of corrupt practices would be punished accordingly, '' era of bribery and corrupt practices in the police was over, '' Misal warns.
In the meantime, efforts to get the army  spokesman have been futile just as commuters, and travellers continued to worry about the unending 'milking machines.'
Senate, CSO, others react
Like Human Rights Watch, civil society groups and activists prevail on the Nigerian government to immediately and effectively address the dynamics that have given rise to and sustain endemic road corruption and its related abuses and ensure that those who perpetrate these crimes are held accountable.
Barr. Joshua Wigra a Yola based human rights activist regrets that the numerous check and stop and search points have not abated the rate of crimes and kidnappings that happen every day sometimes close to the checkpoints, ''people are not safe and sleep with two eyes opened for fear of uncertainty.
'' wonder what they are checking.'' The lawyer laments.
Also on his part, Baba Ismail, a social commentator said in addition to the trauma suffered by commuters, they also fall victim to extortion. He emphasized the need to notify the security chiefs of the kind of extortion going on the federal highways.
He suggested that the Nigeria Police Force should streamline and prioritize internal controls by establishing a Public Complaints Unit at all police stations and restructuring its largely discredited internal anti-corruption unit, the X-Squad.
''The Nigerian government should launch an independent inquiry into corruption within the police force, focusing on the embezzlement and misappropriation of police funds, the corrupt system of returns, and the sale of police services by high-level police officials.
''The Nigerian government, including the National Assembly, and the anti-corruption commissions should improve transparency and accountability in the police force and other security agencies  by reforming and ensuring better coordination of oversight mechanisms; and authorities should investigate and prosecute without delay officers implicated in extortion, embezzlement, and human rights abuses,'' he advised.
Nigerian lawmakers, senators to be precise it could be recalled had on last Thursday laments over 'numerous' checkpoints on highways with the call on security operatives to be professional in discharging their duties.
Source: Naija News