Nigerians React As Orji Uzor Kalu Gets 12-Years Imprisonment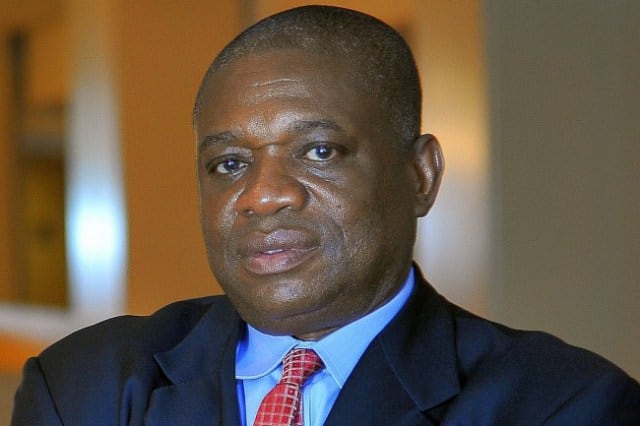 Nigerians have reacted to the verdict of the Federal High Court sitting in Lagos on the former Abia state governor,Orji Uzor Kalu, who was sentenced to 12 years imprisonment earlier today.
Naija News understands that the Senator representing Abia North Senatorial District was found guilty on all the 39-count charges filed against him.
The Economic and Financial Crimes Commission had charged the senator with N7.65billion fraud while in office as the Abia State governor between 1999 and 2007.
Kalu was convicted alongside his firm, Slok Nigeria Limited and his former director of finance, Ude Udeogu.
The court also ordered forfeiture of all assets of his company to the federal government.
However, in a reaction to the conviction, several Nigerians have described the actions as welcome development while others were in shock of the development.
Here are the reactions below:
That Orji Uzor Kalu is a thief is not a question.

That Orji Kalu is being sentenced to 12yrs in prison calls for celebration.

However, awaiting the decision of the Appeal /supreme court, before celebrating is advice.

"For in the APC & your sins are always forgiven" ~ Oshiomole

— Young Otutu (@YoungOtutu) December 5, 2019
Why una never probe tinubu or baba wey dem catch for London with £200k and Malta passport?
Na for Igbo people una strength dey show

— Kingsley christopher (@Ebukings5) December 5, 2019
The good thing bi say APC no dey owe d guy. The gave him ticket, he won election, they also made him a principal officer for the senate…..make e go return Abians money, go to jail and stay condemned

Meanwhile, fed govt cannot manage slok

— Obembe Tosin (@ObembeTosin7) December 5, 2019
Attention please( taps ?): ORJI UZOR KALU IS A THIEF. This is no hate speech,please. A court of competent jurisdiction says so. Shout it very loud before appeal upturns it.

— Mazi Gburugburu (@Mazigburugburu1) December 5, 2019
I like the message Orji Uzor Kalu EFCC case sends… Decamping to APC doesn't stop the long arm of the law.
A strong Warning to potential decampees but let's watch and wait…na naija be this

— Uche Jombo Rodriguez (@uchejombo) December 5, 2019
– Ex -Governor of Abia state, Orji Uzor Kalu, Jailed for fraud.

– He was sentenced to 12 years imprisonment for N7.65bn fraud. pic.twitter.com/O4GUXVFD20

— SubDeliveryZone (@SubDeliveryZone) December 5, 2019
Orji Uzor Kalu thought the APC Umbrella will save him. Little did he know that Buhari will NEVER influence the Judiciary for anybody, not even his family members.

Now that he is convicted for a 7.1bn fraud, let us hear what our friends from the other side will say. Shall we?

— Adebayo Bankole Akintunde (@AdeBanqie) December 5, 2019
Sad news: Federal High Court has sentenced a former Abia State Gov & present Chief Whip of Senate& a powerful @OfficialAPCNg chieftain, Orji Uzor Kalu to a maximum of 12years imprisonment for N7.65bn fraud. Democracy is not in DANGER at all. Offense committed when he was in PDP pic.twitter.com/HaqM36IoHm

— Woye (@woye1) December 5, 2019
Download NAIJA NEWS app: