Senate Receives Report On 2020 Budget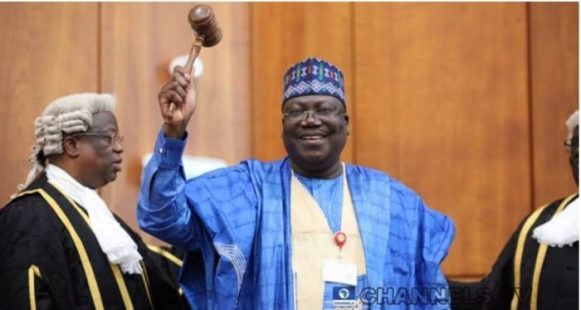 The Nigeria Senate on Wednesday received the report of the 2020 Appropriation Bill from the Chairman Senate Committee on Appropriation, Senator Jibrin Barau.
Naija News reports that the motion to present the report was moved by Senator Barau and was seconded by Senator Bassey Albert Akpan.
Speaking after the presentation, Senate President Ahmed Lawan praised the committee for presenting the report on the 2020 budget.
He, however, told members that copies would be given to them when the committee concludes printing of the report.
"Thank you, Chairman, and let me commend you for bringing the report. Let me also inform our colleagues here that the committee will today work hard to complete printing the details of the budget and we hope that it will be distributed to us at the end of today," Lawan said.
"They are still printing them so we expect that the copies will be made available to all Distinguished Senators."
President Muhammadu Buhari had on October 8, 2019, presented the 2020 Appropriation Bill to a joint session of the National Assembly for approval.
Recall that the House of Representatives had increased the 2020 Appropriation Bill from the N10.33 trillion proposed by President Buhari to about N10.6 trillion.
The House Committee on Finance had proposed the new figure and it would lay its report on the 2020 budget at plenary today, Wednesday.
The House committee has recommended a total budget sum of N10,594,362,364,830.
Source: Naija News