Biafra: Nnamdi Kanu Sends Message To Buhari Govt Over 'Attack' On Lawyer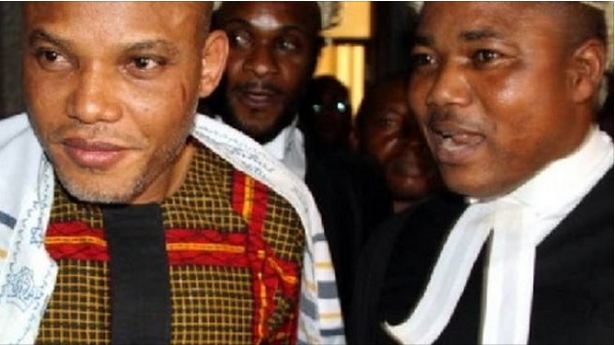 The leader of the outlawed Indigenous People of Biafra (IPOB), Nnamdi Kanu, has reacted to the "attack" on his lawyer, Barrister Ifeanyi Ejiofor in his home in Anambra by the Nigerian Police.
Naija News recalls that officers of the Nigeria Police under the Anambra State Command and some suspected members of the proscribed IPOB clashed at Ejiofor's home in Oraifite, on Monday.
This online news platform understands that the clash in its wake left at least two civilians dead, with the Police accusing the IPOB of killing two of its men.
Giving an update on the clash on Tuesday, John Abang, police commissioner for Anambra, said: "I'll like Nigerians to know that Barrister Ifeanyi Ejiofor, a member of the proscribed IPOB, has been declared wanted," he said.
"I'll seek the cooperation of law-abiding Nigerians, East, West, North, and South that wherever they find this individual, they should report to the nearest police station for possible arrest and prosecution based on the rules and laws of Nigeria," he added.
Reacting to the clash in a tweet on the micro-blogging site, Kanu alleged that the police invaded Ejiofor's home in an attempt to assassinate him and his family members.
Kanu called on the Nigerian government led by President Muhammadu Buhari to stop the "ongoing jihad in Biafraland."
"This morning, Nigerian forces invaded Barrister Ifeanyi Ejiofor's home, my lawyer to assassinate him and his family members. Sadly, the forces killed two #IPOB family members.
"The Fulani caliphate ruling #Nigeria need to stop this ongoing jihad in Biafraland," the IPOB leader tweeted.
This morning, Nigerian forces invaded Barrister Ifeanyi Ejiofor's home, my lawyer to assassinate him and his family members. Sadly, the forces killed two #IPOB family members.

The Fulani caliphate ruling #Nigeria need to stop this ongoing jihad in Biafraland. @CFR_org pic.twitter.com/Yp6Vztj6qV

— Mazi Nnamdi Kanu (@MaziNnamdiKanu) December 2, 2019
Source: Naija News