How To Live Stream Shiloh 2019 'Breaking Limits'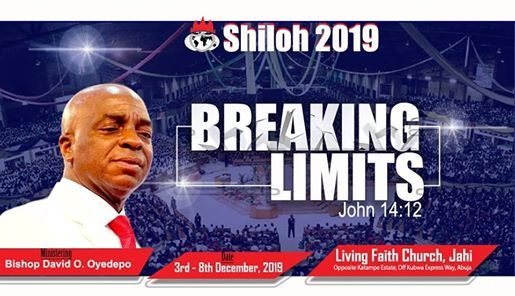 Naija News has obtained the procedure to live stream Shiloh 2019 themed "Breaking Limits" which is organized by Living Faith Church, also known as Winners Chapel.
This online news understands that Shiloh 2019 will commence on Tuesday, December 3rd by 7 pm, and will end on Sunday, December 8th, with a live broadcast from Canaanland, Ota, Ogun State, Southwest Nigeria.
The General Overseer of the church, Bishop David Oyedepo, and other ministers would be live at the Shiloh 2019 Breaking Limits of the Winners' Chapel.
Below is how you can watch the programme online with your mobile device or computers:
How To Live Stream Shiloh 2019 (watch Shiloh 2019 online)
The live stream for Shiloh 2019 is available online and can be done via these means:
1. Domi Youtube Live Stream Channel
This is the live stream or YouTube channel of the Winners' Chapel where you can watch Shiloh 2019 online.
In addition to Shiloh 2019, the Domi YouTube channel of the Living Faith Church is where you can watch other church programmes.
Also, this is the same way you can enjoy the 2019 Shiloh live streaming now on this Domi YouTube channel anywhere in the world from day 1 to the last day.
Click: HERE to live stream Shiloh 2019.
2. Faith Tabernacle Ota Live Streaming
Also, you can watch the Shiloh 2019 service from the Living Faith Church, Canaan Land, Ota live today, this is possible due to the Domi live streaming which functions as the living faith church online service platforms.
Source: Naija News