Nigerians React As EFCC Drops Corruption Charges Against Diezani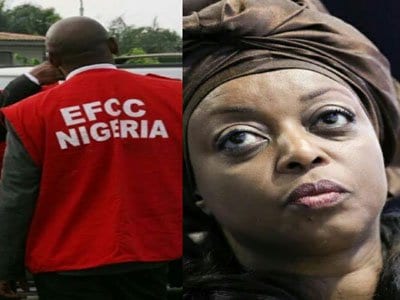 A storm of reactions by Nigerians has greeted a report stating that a 14 count charge filed against Diezani Madueke, a former Minister of Petroleum under Goodluck Jonathan's administration   by the Economic and Financial Crimes Commission (EFCC) has been withdrawn.
Naija News had reported earlier that the EFCC filed the charges against the Ex-Jonathan's minister along with Ben Otti, Nnamdi Okonkwo, Stanley Lawson, Lanre Adesanya, and Dauda Lawal, all of them former officials of commercial banks and the Nigerian National Petroleum Corporation (NNPC).
A report monitored on Daily Trust by Naija News, said that at the resumed hearing of the matter before Justice Muslim Hassan of the Federal High Court in Lagos, Nigeria's commercial city, on November 5, 2019, the EFCC through its lawyer, Rotimi Oyedepo, dropped the corruption charges against most of the accused persons through an amended four-count charge.
The report said the amended charges which border on money laundering only seeks to prosecute a former Executive Director of First Bank PLC, Dauda Lawal alongside Diezani Madueke and Ben Otti who served as Group Executive Director of finance at the NNPC.
Moments after the news broke, Nigerians took to the micro-blogging site, Twitter, to air their opinions on the matter.
Naija News captured some of the reactions below…
https://twitter.com/harrison_n1/status/1199566395455000577?s=12
NIGERIA is a JOKE
EFCC dropped DIEZANIS charges!
Diezani has one of the most craziest corrupt cases in Nigeria!
I am disappointed, Youths please work hard don't wait for the GOVERNMENT they don't have plans for you , they don't care about you !

— African Travel Evangelist (@blvckbillionair) November 27, 2019
Timeline:

Jonathan visits Buhari
APC wins Bayelsa guber election
Governor-elect, David Lyon visits Buhari
Jonathan's wife assets returned to her
EFCC drops all corruption charges against Diezani

.

— JustSociety4All (@justsociety4all) November 27, 2019
After the:
* $90bn loot
* $487.5m in cash
* $40m Jewellery
* $37.5m ikoyi mansion
* Media & social media trials
EFCC is a dog dat can bark but not bite,EFCC has just dropped d case against Diezani Alison Madueke.see GEJ's effect,Once u romance APC,u're a Saint. Like PDP like APC https://t.co/4ty4BXMURz

— SEÑOR HAMID🌙 HUMBLE (@amid_temitayo) November 27, 2019
EFCC dropped corruption charges against Goje, Omisore, Sylva Babachir Lawal & Obanikoro are walking freely, EFCC is no more investigating Akpabio etc. The news of EFCC dropping some charges against Diezani isn't surprising. What's good for the goose, is good for the gander. 😊😊

— Zaddy (@UNCLE_AJALA) November 27, 2019
https://twitter.com/sirsmithm/status/1199571922885005312?s=12