Ex-Osinbajo's Aides Lament Sack By Presidential Cabals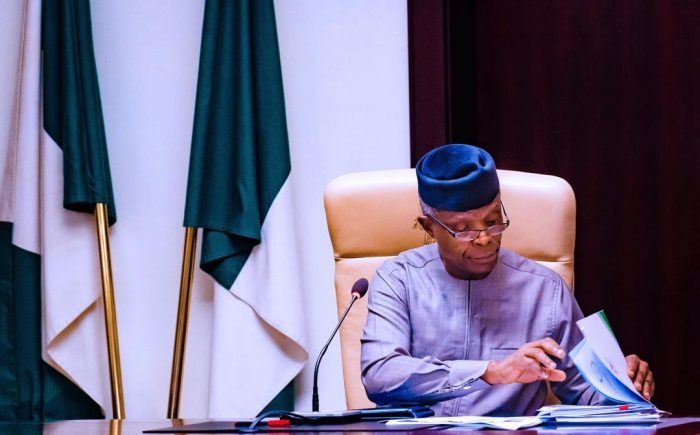 Sacked staff from the vice-presidential office have decried the treatment meted on them by some alleged powerful cabal in the Aso Rock.
The affected aides said they had suffered physical, emotional, financial and psychological trauma by their sack which, they believed, was done without President Buhari's knowledge.
They also attributed their sack to intense rivalry and power play in the presidency. One of them said he had to resign from his job, leave his base in Lagos, and relocate to Abuja in order to take up the appointment.
"We were actually issued a sack letter but we refused to accept the letter which was given to us after the president had gone for vacation. We all believed it was done without the knowledge of the president. "I was among the aides who were appointed in August. Later we were told there are no vacancies in the Villa so were posted to various ministries where our experiences will be needed.
"I was posted to a ministry (name withheld) and I was accepted there. I was already settling down only for me to hear that we have been relieved of our jobs. "Contrary to rumours out there that we were sacked because there were no spaces in the ministries, many of us had already been accepted. We believe it (the sack) has political undertones.
"When I got this appointment, I had to resign from my job and move to Abuja. Since I came here, I have spent millions of naira on hotel bills, transportation and other expenses."I have been ridiculed by some friends who are wondering why I was offered an appointment in August only to be sacked in November of the same year without committing any infractions.
"I have since returned to my base in Lagos because it is of no use staying back in Abuja. Hotels in Abuja are very expensive and cost of living is very high. I will only return after the issue has been resolved."I am a staunch member of the APC and I worked vigorously for the success of the party in 2015 and the 2019 general elections. This is definitely not a good way to reward me," he said in a chat with Daily Independent monitored by Naija News.
Speaking in a similar vein, another female aide whose appointment was also terminated, said she went through the same harrowing experience too as her business suffered during the period she was in Abuja.
She was, however, optimistic that the vice-president would sort out the issue with the president and that they would be recalled.
"There is still light at the end of the tunnel. The president may be right when he said we were not sacked but redeployed to other ministries."That was what happened before he left the country. But after that a powerful person in the presidency issued us sack letters. We believe the vice president is on top of the situation.
"For me, I was highly disappointed and traumatized. Imagine my name being circulated in the media that I was sacked a month after I got an appointment for committing no offence.
"I have also spent a lot of money while my businesses have suffered since I moved to Abuja. Many of us believe that justice will prevail in the end."
Shortly after he returned from his private visit to London, President Muhammadu Buhari explained that Osinbajo's aides were not sacked but redeployed as part of a general re-organization of the workforce for greater efficiency.