Constituency Projects: Senators Slam Buhari, Blame Ministers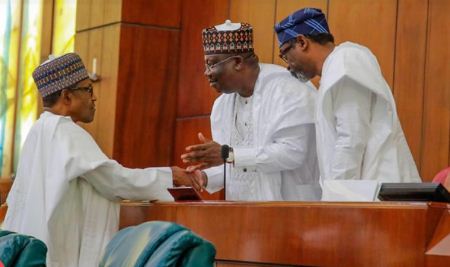 Constituency Project Raises Dust Between Executives And Legislators
Some Nigerian Senators have responded to claims by President Muhammadu Buhari on the mismanagement of funds meant for constituency projects.
It will be recalled that the President on Tuesday, said about N1 trillion had been spent on constituency projects in the last 10 years without anything to show for it.
Buhari spoke at a summit organized by the Independent Corrupt Practices and other Related Offences Commission (ICPC) in collaboration with the office of the secretary to the government of the federation.
However, the Peoples Democratic Party (PDP) caucus in the senate said if constitutional project funds are been mismanaged, the President should question his ministers and others in the executive arm responsible for project implementation.
They maintained that legislators only recommend projects and neither collect money for it or implement the projects directly.
Commenting on the episode while speaking with reporters in Abuja on Wednesday, Senate Minority Leader, Enyinnaya Abaribe, said the President's statement was erroneous, hence the PDP lawmakers were not bothered about the comment.
"We are not worried by the statement. The reason we are not worried is because we know that it was a statement that was erroneous," Abaribe said.
"Somebody must have written a speech and then put false information in the speech. I have done constituency projects and we have always said that they are not done by senators or members of the house of representatives.
"They are domiciled in the executive who execute it. If the president said he has not seen anything, he should ask his ministers and his agencies under him as the executive as they are the people who have been executing these projects."
Meanwhile, the House of Representatives has also countered the statement by President Buhari at the event organized by the ICPC.
Speaker of the House, Hon. Femi Gbajabiamila, said the statement which could have been taken out of context, painted the National Assembly as 'the weeping boy.'
Gbajabiamila made the submission in response to a motion by Ndudi Elumelu, the House minority leader, who spoke on order of privilege.
"My concern is the unintended consequences of the words from the report of the ICPC. It is okay to put the national assembly as the weeping boy."
"The ICPC can use the Freedom of Information to request for details of the projects. I don't think the ICPC will appreciate it if the National Assembly should do oversight on the agency using the budget. I want to use this medium to send a word to the ICPC to be careful, and do their work diligently," the speaker said.
Earlier, Elumelu said constituency projects over time have not enjoyed full capital release, further noting that the lawmakers are not responsible for the implementation of such projects.
"In the past 10 years, N100 billion has been budgeted annually, but our constituents have not gotten value for the money spent. Yes money has been budgeted but the release has not been up to 50 percent," he said.
"Section 4 of the 1999 constitution gives us the power to make laws, but the onus is on the executive to execute the project, we are not contractors."