The Independent National Electoral Commission is set to conduct the re-run election for the Kogi West Senatorial district.
The people of Kogi West Constituency are ready to vote for the candidate who will represent them in the National Assembly.
The senatorial election which is holding on November 16 is been contested by twenty-four candidates.
The major candidates in the election are Dino Melaye of the Peoples Democratic Party and Smart Adeyemi of the All Progressives Congress.
Naija News will be on the ground to give you the latest information. Keep refreshing the page to get the latest updates.
7:20 AM: Elections are expected to kick off at 8 am across various polling units in the Kogi West Senatorial Districts.
7: 25 AM: Electoral materials have been distributed to some polling units with security operatives on the ground to guard the electoral process.
8: 00 AM: Voters are on the ground at the polling units to check for their names on the register.
9: 00 AM: At the Kabba-Bunu Local Government, Ward: Asuta, Polling Unit, 005, voters are been shown the ballot boxes, indicating red for the governorship election and green for the senatorial election.
9: 10 AM: At Lokoja Local Government Ward: Oworo, Polling unit: Felele Area 004, a report has it that Voting is yet to commence.
9: 20 AM: Kabba/Bunu Ward: Asuta PU: 005, the APO 1 is addressing voters ahead of the commencement of accreditation and voting.
9:31 AM: Kabba/Bunu Ward: Odolu Polling unit code: 005, Voting has started and voters are on queues. Card readers are working well. 7 security officials are on the ground. The voting process is peaceful.
9: 40 AM: Senator Dino Melaye has cast his vote at the polling unit 004, Ayetoro Gbede 1, Ijumu local government area of the state.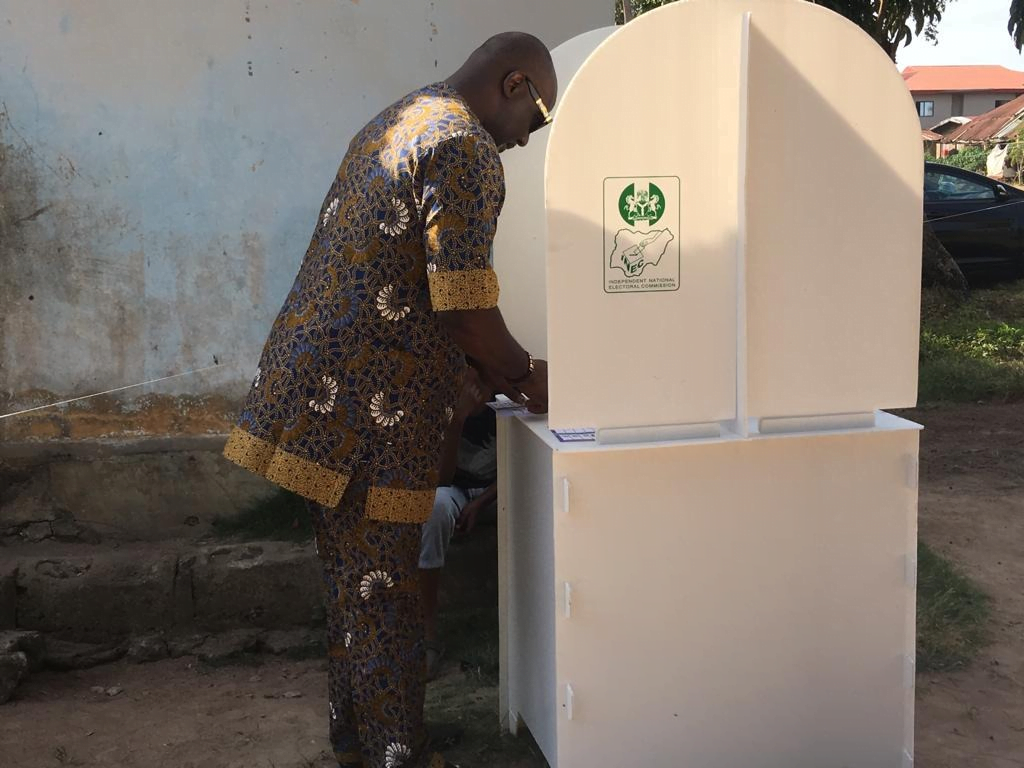 10: 00 AM: Dino Melaye gives businesswoman money to share beans cake to voters around the PU 004 in Ayetoro 1 ward in Ijumu LGA.
10: 30 AM: Voting just started at PU 008, ward 01 in Lokoja. Ass. Presiding Officer says delays at the Crowther RAC caused the late start of voting.
10: 35 AM: According to a report, some suspected thugs just snatched electoral materials at Gbeleko polling unit (Kogi state Speaker's unit) in Egbeda ward of kabba/Bunu local Government.
10: 40 AM: The polling unit where Dino Melaye voted has been attacked by Thugs. The hoodlums who came in a black Hilux van broke one of the ballot boxes and ran away with the other while shooting into the air to scare people away.
11: 00 AM: At Ijumu Local Government area, ward: Aiyetoro 1, PU: 004, a voter has been reportedly shot by thugs and have carted away the ballot box.
11: 10 AM: Kabba/Bunu, Ayeteju Kajola, Ayewa 001 PU, Card reader problem recorded and voting has stopped.
11: 30 AM: A report from SituationRoomNg has it that A SituationRoomNg observer's phone has been seized by an alleged aide of Gov. Bello for attempting to take pictures of alleged ballot-box stuffing.
12: 00 AM:  Smart Adeyemi, the APC Kogi west senatorial candidate, joins the queue to cast his vote at PU 002, Iyara ward, Ijumu LGA.
12: 15 PM: PU 22/12/03/002 Lokoja. Accreditation and Voting going on smoothly. 300 accredited out of 1,165 total registered (25.75%) as at 12:15 pm.
PU 22/12/03/002 Lokoja. Accreditation and Voting going on smoothly. 300 accredited out of 1,165 total registered (25.75%) as at 12:15pm. @inecnigeria #KogiDecides2019 #KogiDecides #Kogi pic.twitter.com/tZVSGMGoox

— election monitor (@electmonitorng) November 16, 2019
12: 59 PM: Man spotted with numerous PVCs at Lokoja Local Government.
8:28 Am, Lokoja LG, Lokoja D, Pu 005, This man in green was seen with many PVCs, He is now distributing it to various persons. #SnapAndSend #KogiDecides2019 @macfound @inecnigeria @EUinNigeria @FordFoundation pic.twitter.com/Bh2sBDJ7G9

— PTCIJ (@ptcij) November 16, 2019
1: 20 PM:
#KogiDecides2019 Breaking News. Heavy violence and ballot box snatching by armed gun men suspected to be @OfficialAPCNg members, in Ajayi Crowder memorial college and ward 07 in Lokoja.2 people were killed.

— Official PDP Nigeria (@OfficialPDPNig) November 16, 2019
1: 43 PM: Voting has been concluded at the Odole 2, ward 02, PU 02 of Mopa Muro LGA. The officials are just waiting to sort and count the votes.
2: 00 PM: 
Time: 11:10am
State: Kogi
LGA: Yagba East
Ward: Ifeolukotun post office
PU: 002
Report: Card readers were not working earlier in the day but as at 11:10am, they began to work.#KogiSR2019 #KogiDecides2019

— Situation Room (@SituationRoomNg) November 16, 2019
3: 00 PM: At PUs 001 and 006, Asuta ward, Kabba/Bunu, votes were being counted with the PDP leading when some thugs started pouring water and drinks on the ballot papers. Journalists and INEC ad hoc staff were threatened and chased away.