Oshiomhole vs Obaseki: Group Makes Shocking Revelation About Attack On Edo Gov.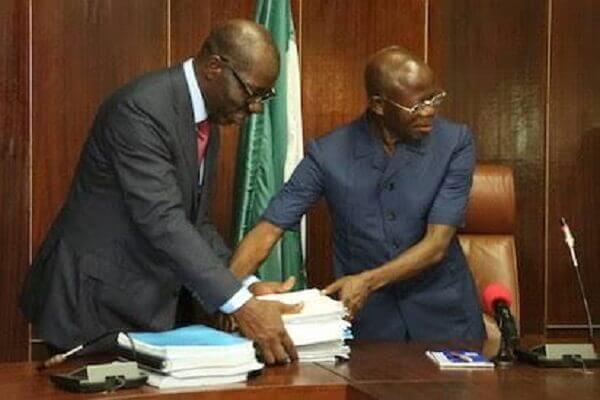 A group in the Edo State All Progressives Congress (APC), Edo Peoples Movement (EPM), has asked Governor Godwin Obaseki and his Deputy, Philip Shaibu, to apologise to Adams Oshiomhole.
Naija News recalls that thugs attacked the convoy of Governor Obaseki, Deputy Governor Philip Shuaibu and the Oba of Lagos, Rilwan Akiolu at Iyamoh the country home of  Oshiomole.
The Pro-Chancellor of Edo University, Iyahmo, Prof. T.O.K Audu was also in the convoy.
It was gathered that the youths carried out the attack in retaliation to an alleged attack on Oshiomhole's Benin City home.
The youths attacked the convoy after sighting the man alleged to have led the attack on Oshiomole home, Andrew Momodu.
Obaseki, Oba Akiolu, Audu and other guests had attended the maiden convocation ceremony of the Edo University, Iyahmo, Etsako West Local Government Area of Edo State.
It was gathered that the Oba of Lagos alongside Obaseki were on their way to honour a lunch invitation at Oshiomhole's house when the youths descended on their convoy.
Speaking on the attack, Oshiomhole had insisted that the Deputy Governor mobilized over 200 commercial motorcycle riders (Okada riders) and thugs to the venue of the convocation of the Edo University, Iyamho to embarrass him and his guests.
But reacting in a statement by his Chief Press Secretary, Musa Ebomhiana, on Monday night, Shaibu denied allegations by the former Edo State governor.
Shaibu, a former loyalist of the APC Chairman, asked Oshiomhole to be courageous enough to own up.
Reacting in a statement signed by its convener and former commissioner for justice and attorney general of the state, Henry Idahagbon, EPM revealed that Obaseki and Shaibu were never invited for lunch by Oshiomhole.
He said: "We are wondering what could the governor and his deputy be looking for at the residence of the national chairman if not trouble because they were never invited for lunch.
"The incident at the gate of the national chairman was masterminded by the state government so as to give Oshiomhole a bad image.
"Unfortunately, the deputy governor, who was battling to impress his boss in an area where he is not popular, resorted to use thugs to intimidate members of the community.
"These people have embarrassed our party, the APC, enough and we are giving them seven days to apologise to Oshiomhole or we will move for their suspension from the party."