Why Nigerians Should Quickly Embrace Locally Made Product – Buhari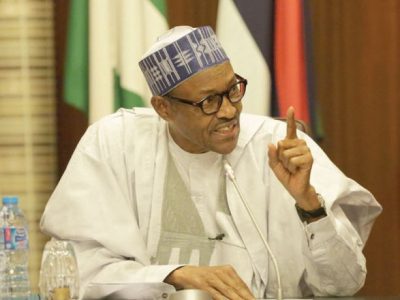 President Muhammadu Buhari has called on Nigerians to accept the new reality of patronising locally produced goods.
This Buhari said during his keynote address at the opening of the 2019 edition of the Lagos International Trade Fair.
The president who was represented by Mariam Katagum, the minister of state for industry, trade and investment,  said his administration is committed to its mandate of providing assistance that would guarantee the growth of micro, small and medium enterprises (MSMEs).
He started first by praising the Lagos Chamber of Commerce and Industry (LCCI), and the organisers of the fair for the vision and its sustained efforts in planning the annual events.
He further commended the state government for creating the right atmosphere for the event to thrive.
"Trade fairs of this nature are vital economic tools for the realisation of my government's economic agenda for the industrial upgrade and economic development of the country.
He further acknowledged the need for collaboration with the private sector in order to transform Nigeria into an industrial giant.
"To this end, I want to use this opportunity to reiterate my call for Nigerians to patronise Made-in-Nigeria products and services.
Buhari further stressed the need for Nigerians to accept locally-made products.
"That is why I have constantly emphasised that we must be a nation where we grow what we eat and consume what we produce."
Buhari said that the non-availability of white-collar jobs had made it imperative for Nigerian youths to embrace entrepreneurship development which would make them become economically empowered.