Just In: Thugs Attack Obaseki, Oba Akiolu, Others At Oshiomhole's Residence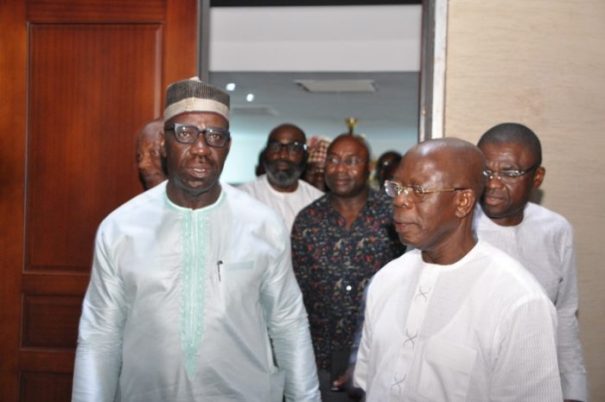 Thugs on Saturday attacked the convoy of Governor Godwin Obaseki of Edo State and the Oba of Lagos, Rilwan Akiolu at Iyamoh the country home of the All Progressives Congress (APC) National Chairman, Adams Oshiomole.
The Pro-Chancellor of Edo University, Iyahmo, Prof. T.O.K Audu was also in the convoy.
Naija News reports that the youths carried out the attack in retaliation to an alleged attack on Oshiomhole's Benin City home.
The youths attacked the convoy after sighting the man alleged to have led the attack on Oshiomole home, Andrew Momodu.
Obaseki, Oba Akiolu, Audu and other guests had attended the maiden convocation ceremony of the Edo University, Iyahmo, Etsako West Local Government Area of Edo State.
It was gathered that the Oba of Lagos alongside Obaseki were on their way to honour a lunch invitation at Oshiomhole's house when the youths descended on their convoy.
"The governor, the Oba of Lagos and other guests had gone to Oshiomhole's house for lunch when they were attacked by thugs led by one Romeo, said to be one of Oshiomhole's cousins," an eyewitness told The Punch.
Godwin Obaseki's security aides had to intervene to prevent a blood bath as several vehicles were smashed by the thugs.
Another eyewitness claimed the crisis was triggered by Deputy Governor Philip Shaibu, who had allegedly led Okada riders to the venue of convocation.
However, they were reportedly dispersed by policemen who fired tear gas at them.
"But the Deputy Governor found his way inside, he was the one who led the Okada men from various parts of the state to the venue. So when the youths saw Momodu who was the Governor's CSO in the convoy, they got angry," he said.
Naija News recalls that the Spokesman of the APC National Chairman, Simon Egbebulam, had claimed that thugs attacked the Benin residence of Oshiomhole.
Oshiomhole's aide had said the thugs were repelled by security operatives and youths of the APC in Edo state.
"Oshiomhole came for the purpose of a function that took place in Protea hotel which was his aim of coming to Benin City from Abuja.
"While he was away on the function, some thugs believed to be in the other camp, blocked the entrance to his residence, fanning the embers of war.
"Security men on ground dislodge the hoodlums from gaining entrance into the residence. Brave APC youths also resisted the thugs who took to their heel." Egbebulam had stated.