Popular Nigerian Bishop Releases Fresh Prophecies On Biafra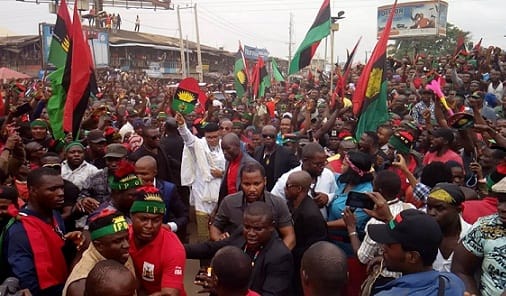 Bishop Abraham Udeh, the General Overseer of Mount Zion Faith Global Liberation Ministries Inc Nnewi, Anambra State, southeast Nigeria, has released fresh prophecies on Biafra, suggesting that there would be hindrances in getting a sovereign state "agitated for by some Igbos."
Naija News reports that the Nigerian Bishop released the prophecies during a prophecy session with his members in his church on Wednesday in Anambra State.
The Nigerian Bishop said in his prophecies that Nigerians from the South Eastern part of the country rejected the option of an Igbo Presidency but rather opted for the Republic of Biafra.
This online news platform understands that South Eastern Nigerians are hoping to produce a President in 2023, a position which is also desired by the Yorubas.
On the possibility of the Republic of Biafra coming without  hindrances, Bishop Udeh stressed that the Hausa-Fulani oligarchy in collaboration with some Arab countries, will   frustrate the actualization of Biafra.
According to him,  "The Igbo rejected the option of a president of Igbo extraction and rather faced the actualization of Sovereign State of Biafran with one mind.
"I saw in the spiritual realm an Hausa-Fulani agenda to allow an Igbo man to be elected president in 2023 only to be subjected to the control of the North.
"I also saw people from the Arab countries in collaboration with Moslems in Nigeria working against the actualization of Biafra in the spiritual realm, and hardening the hearts of prominent Igbo leaders not to have interest in Biafran struggle."
"Most people in the religious circle are not talking. Our politicians are not talking. We need this freedom now." the Bishop said in his prophecies

Meanwhile, Naija News reports that Nnamdi Kanu is leading a group (IPOB) seeking secession from Nigeria. The group has since been proscribed by the Federal Government of Nigeria led by President Muhammadu Buhari.