Baby Factory Uncovered In Ogun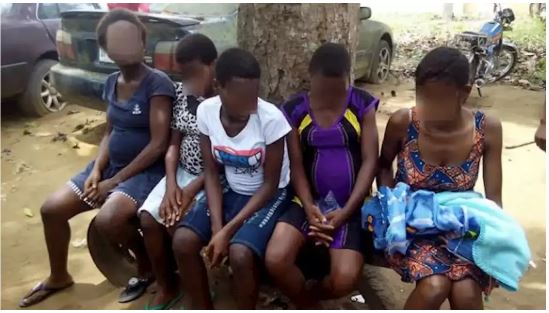 Detectives attached to the Federal Criminal Investigation and Intelligence Department (FCIID) in Alagbon, the Ikoyi axis of Lagos have uncovered a brothel where underage girls are camped and sexually exploited.
Naija News understands that the brothel uncovered by the detectives is identified as Dafog Hotel, located in Shimawa, a Lagos-Ogun border community.
The baby factory according to report was discovered on Wednesday while some arrests including 14 women, two men have been made.
Those arrested have been reported to have included the owner, Gbenga Olayinka, his nephew, Adekunle Oshineye, three adult commercial sex workers – Happiness Daniel, Favour Nkume and Glory Ewelike as well as nine underage girls.
This online news platform gathered that the girls gave their names as Chisom Onyekwere, Chinonso Okoro, Stella Emmanuel, Gift Wada, Chidinma Emmanuel, Tracy Favour, Success Onu, Comfort Francis, Njoku Divine, Destiny Chibuike and Amanda Chima.
It was gathered from a report carefully monitored on Daily Post, that the underaged girls were curled from Akwa Ibom, Kogi, Enugu and Imo States. They were allegedly subjected to sleeping with a minimum of four men daily at a fee ranging between N500 and N1,000 per client.
Some of the girls who spoke to reporters said they usually paid their boss N1,000 daily for the accommodation.
Aside from making them sleep with men for money, it was gathered that the men usually take turns on them whenever they felt like doing so.
While speaking to newsmen about how the place was discovered, the Deputy Superintendent of Police (DSP) Cordelia Nwawe, said her boss, Assistant Inspector General of Police (AIG) Usman Mani received intelligence about a 'baby factory' in Shimawa, Ogun State on Tuesday night.
Nwawe in her words said; "The anti-trafficking team immediately moved to the location and throughout the night till about 10 am on Wednesday, October 23, we were on operation in the area. We needed to locate that particular baby factory where underage females are kept.
"They carried out extensive investigation and found out that 16 females were housed there and engaged as sex workers.
"These girls engage men from the underworld and give them information on potential targets. They are used for high menace back in this country. Also note that weapons are usually hidden in places like this and so, the FCIID is out to carry out extensive investigation.
"The AIG FCIID has stressed that the police will not allow women to be moved to Lagos or any city in the country and turned into sex workers," she said.
However, Olayinka who is the owner of the brothel, in his own comment denied that the place was a baby factory, adding that he did not know some of the girls were underage.
Olayinka said he has owned the 20-room brothel for about two years, adding that the girls approach the brothel management on their own while he asks them their age but the girls insist they were 20 years and above.
"I have never forced anyone to stay. The place is a hotel and I charge the girls N1,000 daily. I do not control them on their customers and I do not keep their money for them. I don't ask them for identity cards when they come in. I just ask their names, age and where they came from which I usually wrote in my book.
"Police have been coming there to search but they have never found anything incriminating. It is not true that criminals come there to hide and it is also not true that the girls keep weapons for criminals. Nothing like that happens there.
"My offence is that I kept these girls in my care to use them to work and I am sorry about that. I know it is wrong. I am married with four kids, two girls and two boys." Olayinka said.