Again, Nigerians Call For #EndSars On Twitter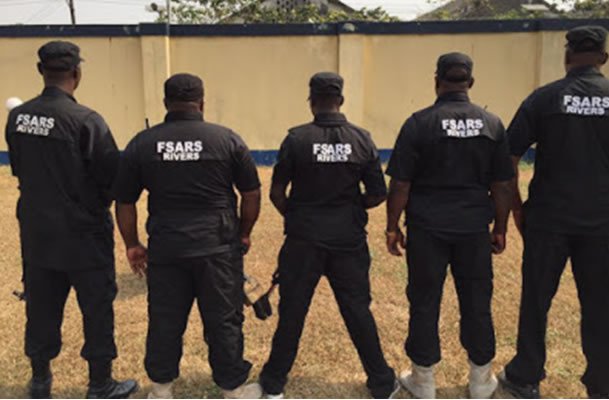 #EndSars Trends On Twitter
Nigerians have renewed calls for the federal government to put an end to the Special Anti-Robbery Squad (SARS), a unit of the Nigeria Police Force.
Naija News reports the SARS is a special unit of the Police force created to deal with issues of robbery and stem such negative tides in the environment.
Specifically, SARS is a branch of the Nigeria Police Force under the Force Criminal Investigation and Intelligence Department (FCIID). The squad deals with crimes associated with armed robbery, car snatching, and other crimes associated with firearms.
However, Nigerians have constantly shared stories of how the SARS operatives engage in unlawful arrest, high-handedness, humiliation, detention, and extortion of innocent members of the society.
An example that readily comes to mind is the case of Kolade Johnson, an innocent football fan that was shot to death in Lagos State.
This online medium has compiled some reactions from Nigerians after another citizen on Thursday, shared his experience in the hands of the SARS operatives in Port Harcourt.
See some reactions and renewed calls for an end to the unit:
This will be looked into and the rogue officers will be brought to book. @PoliceNG_CRU @AcpIshaku #EndImpunity https://t.co/K52GbMX2DU

— SEGA L'éveilleur®? (@segalink) October 24, 2019
Before SARS arrested you. After SARS released you. #StopRobbingUs #EndSARS https://t.co/hy6aSVnYFo

— ARTHURPRESS™ (@Blaqwilliams1) October 24, 2019
So as a young guy in Nigeria we can't look good or dress well without being harassed by security agents? #EndSARS

— kannyyy (@okannyyy) October 24, 2019
In recent time, we no longer hear of arm robbery case rather the only ROBBERY scenario we know now is being ROBBED by men of @PoliceNG. They ROB, KIDNAP, TORTURE and even MURDER innocent Nigerians CONSISTENTLY (DAY AND NIGHT) without remorse. #EndSARS#ENDSARS #EndImpunity
? pic.twitter.com/lBu9azdGvx

— Olanrewaju larex (@Larex51) October 24, 2019
SARS are nothing but nuisance to this nation called Nigeria, it's high time they left our streets. #ENDSARS

— #Sir_PopuL4R (@Popul_Wiz) October 24, 2019
I am very scared of the police,the people that are supposed to protect us are torturing and extorting us,my heart skips anytime I see an armed man in that uniform #EndSARS

— Moyosore The Billionaire ? (@Moyosoreoluwaa_) October 24, 2019
#EndSARS is trending again who have they killed ? pic.twitter.com/UKM0D7MOSj

— Nobel GuY Vhic3❄?? (@vhic3adibe) October 24, 2019
The NPF/SARS are so mischievous and petty that they always develop new ways of discovering so called dirt on your phone.
Now they've gotten a new method for Android users, once they find any international number on your phone contact they'll arrest you. #EndSARS #ReformNPF

— ShakaZulu? (@adams_jfa) October 24, 2019
Download NAIJA NEWS app: