PDP Reacts As President Buhari Restricts Ministers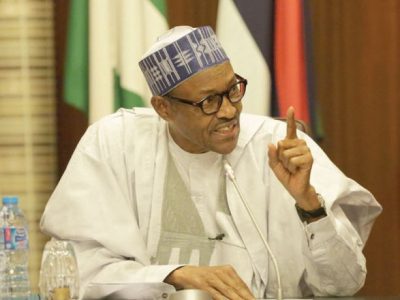 The Peoples Democratic Party (PDP) has challenged President Muhammadu Buhari to lead by example and end the profligacy in the presidency.
The main opposition party was reacting to Buhari's restriction of foreign travels to two per quarter for heads of Ministries, Departments, and Agencies.
Buhari also ordered public office holders to fly economy and not business class when on official engagements.
He also added that the delegation of ministers shall no longer exceed four persons while those below ministerial levels are restricted to just three.
Reacting in a statement on Thursday by its National Publicity Secretary, Kola Ologbondiyan, the PDP asked Buhari to reduce the Presidential fleet, as well as cut his over-bloated entourages.
The party also berated the president for appointing new aides for Aisha Buhari, the First Lady, after promissing to scrap the office in 2015.
"Mr President remains responsible and answerable for his presidential assurances and Nigerians expect an explanation on the violation of such sensitive undertaking," Ologbondiyan said.
According to the PDP, the Buhari Presidency has proven to be extremely expensive and a major draining pipe for valuable resources.
"The profligacy that permeates the Buhari Presidency had further manifested in the public fight between the First Lady, Aisha Buhari, and President Buhari's nephews over issues of opulent accommodation in our presidential villa.
"The party further urges Nigerians to note that the Buhari Presidency has failed to make the details of its budget public, despite demands by our party and other well-meaning groups in Nigeria.
"The failure to make the details of the Presidency budget public places a huge burden on the Buhari Presidency, particularly in the face of allegations of budgetary corruption and financial sleaze," the PDP added.