Bayelsa: Many Cabinet Members Resign From Dickson's Government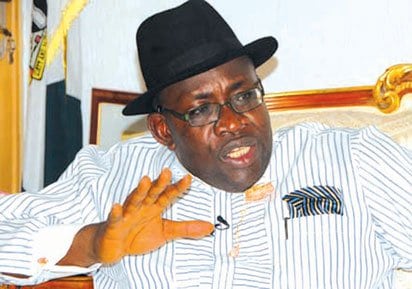 Ahead of the November 16 governorship election in Bayelsa state, a gale of resignations from Governor Seriake Dickson's cabinet is been reported.
According to the report monitored on The Cable by Naija News, at least 10 members of the cabinet have resigned.
This online medium, however, reports Dickson himself is not seeking re-election as a governor as he winds down the two-terms as Bayelsa's chief executive as constitutionally permitted but he is supporting Senator Douye Diri of the PDP to become governor after him.
Those on the resignation list so far include Markson Fefegha, commissioner for mineral resources; Ombu Napoleon, senior special assistant to the governor on community development; Iniruo Ipogi, special assistant on student affairs; Stephen Diver, special adviser on inter-party affairs; and Natus Zebakame, special adviser on culture.
Fefegha in his resignation letter dated October 2, said he decided to quit the cabinet "after a period of deep reflection".
Fefegha, who had been a part of Dickson's administration since 2012, said his exit from Dickson's government will take effect from Friday, October 18, 2019.
He blamed his decision to resign on "political uncertainty and other reasons personal to me".
Quoting from the bible, he added that "as the Holy Book says; there is a season and a purpose for everything under the heaven."
On his part, Napoleon in another letter dated October 16, said his reason is personal.