Minimum Wage: NLC Shuts Offices, Schools In Delta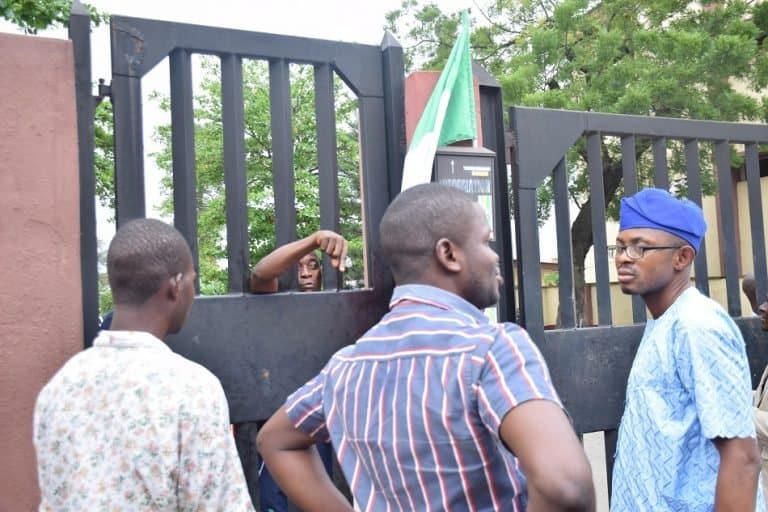 The Delta state chapter of the Nigeria Labour Congress (NLC) has begun to shut offices and schools in Asaba, the Delta state capital.
Naija News understands that the closure of schools and offices comes ahead of the planned strike over delay of the implement the new minimum wage.
This online news platform understands that the NLC members were seen patrolling Asaba, the state capital in a marked Hiace mini-bus, closing government offices and turning back school children to go back to their parents' home.
This comes after the reports suggesting that the NLC's national body had threatened to embark on strike action if the Wednesday's meeting with the federal government ends in deadlock.
Before the meetings, NLC was demanding 29 per cent increase for officers at grade levels 07 to 14 and 24 per cent adjustment for officers at grade levels 15 to 17. While the Federal Government proposed an 11 per cent increase for officers at grade level 07 to 14 and 6.5 per cent adjustment for workers at grade level 15 to 17.
The NLC State chairman, Goodluck Ofuburuku, was reported to have confirmed that labour was on strike in the state.
"We are on strike and that is all I can tell you for now. We expect offices and schools to comply. The strike is in force that is why we are going round to enforce compliance," Ofoburuku said.
However, most banks in Asaba remained open for business as customers continued their transactions without hindrance.
Meanwhile, Emmanuel Ugboaja, the General Secretary of the Nigeria Labour Congress (NLC), has said that labour did not issue any strike notice.