Nigerians React To Vector's New Diss 'Judas The Rat' Against MI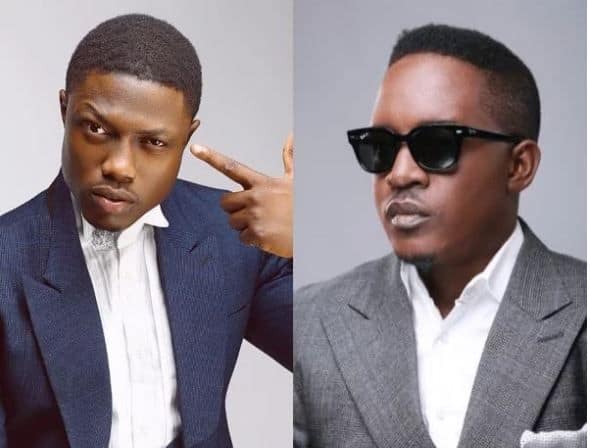 Naija News reported earlier that Nigerian rap artist, Olanrewaju Ogunmefun David, popularly known as Vector has released a new diss track titled 'Judas the Rat' against MI Abaga.
Recall that this is not the first time the two are engaging in a rap battle. Just last week MI had released a single titled "The Viper (Vector Diss)' in which he blasted Vector, asking him to bow down to his authority.
Meanwhile, Nigerians have taken to Twitter to react to the latest development between the two.
See reactions below:
MI: Lanre, I'm your dad

Vector: But my dad is dead.

Does that mean…..? pic.twitter.com/UWmlu474Mb

— wa be lie (@Taofeek__) October 11, 2019
MI going back to the studio to reply vector's diss track#JudasTheRat pic.twitter.com/Vk9Hknq3pu

— MF? (@Olajuwon_8) October 11, 2019
When you see "But MI" trending
???????
That means what???
Vector tried "But MI" won??
#JudasTheRat pic.twitter.com/M1S7IXa77K

— Son of Grace??? (@aaron_ayorinde) October 11, 2019
Ambode Preparing his Diss Track for Vector after getting Dragged by VEC #JudasTheRatpic.twitter.com/CcNNtwTqkB

— King Nonny ? (@Zaddy_nomso) October 11, 2019
What if Jesse jags diss Mi and chocolate city in his reply to vector ? https://t.co/4puZhp6gzN

— legion of light (@Streetz_Light) October 11, 2019
Who won the battle?
Rt for MI, like for Vector #JudasTheRat pic.twitter.com/CIOCHoSLIJ

— Pogllins ? (@Pog_llins) October 11, 2019
It took Vector 7days to reply, no wonder the track is week >>>>#JudasTheRat

— Leo Ralph ?? (@iamleoralph) October 11, 2019
I just pray the beef between MI and Vector doesn't escalate, that vector guy be like who get hot temper ..
You people should better beg him before he lands MI a black eye .

— Volqx (@volqx) October 11, 2019
M.I stans want Vector to come and start shouting "Koni dafun e and iya baba e" on a track before they see the magnitude of the bars.

— Dr. Oluwafemi Anthony (@RealSOK_) October 11, 2019
MI started d diss wt his cypher, vec replied wt a cypher diss
MI fans: vector thrives on beef

MI turned in2 a pastor overnight, preachin d gospel
VEC continued from where his sermon ended

MI fans: vector was shalayeing, mi got into his head??

'Ur dumb fans are dumb sha"

— Sound man Imade (@imadey01) October 11, 2019
MI and Vector are out here using Bible verses to diss. MI with Psalms 1.

Vector replied with Ecc. 10.8: "… whoever breaks into a wall may be bitten by a snake." #JudasTheRat

Ladies and gentlemen, these men are no longer operating in this realm, they've gone spiritual! ??

— Ediye (@iamOkon) October 11, 2019
You people are missing one huge bomb Vector threw at M.I

M.I called Vector his son
Vector replied "we all know my father is dead"

Literally M.I is Vector's father (Vector's father is dead)
Which literally means M.I is dead

That's deep a jab thrown at M.I #JudasTheRat

— ZEUS (@itzbasito) October 11, 2019
Jesse Jags after listening to Vector's reply:#JudasTheRat pic.twitter.com/PMRPgjpein

— Samuel Mbah (@__Mbah) October 11, 2019
Remove Hight Yab

Remove Jessy Jagz Topic

All you will hear in Vector's reply is JORO #JudasTheRat

— Trouble Maker ?(G.O). (@ObongRoviel) October 11, 2019
Have you guys noticed Vector has not been tweeting to defend himself? I know my GOAT.

— wa be lie (@Taofeek__) October 11, 2019
I'll explain to you.
First off he said he is recording in his girls BQ, you don't need me to tell you that's false, right?
Secondly, he claimed Vector full of Jealousy, he shot himself in the leg there because he confirmed it himself that he has always wanted the Hennessy…

— Alhaji Royz?️ (@royzkingin) October 11, 2019
Someone said Vector has identity crisis because he misrepresented himself with a cobra instead of a viper.

What is all this? ? pic.twitter.com/AtCJDt9suo

— ??KARO'S EFFECT (@Osakaromen) October 11, 2019
I'm very sure even Vector would prefer The Viper to his own diss track

— DemiThaCreator™ ? (@demithacreator) October 11, 2019
The Viper is actually a song that could be nominated for best rap song of the year. No cap. He didn't rap. He made music. Vector's #ThepastorsSon was just a basic track. No spark. He didn't even switch up the flow. It's not catchy at all.

— DemiThaCreator™ ? (@demithacreator) October 11, 2019