#BUSA19: Nigerians Make 'Funny' Reactions, Create Wedding Hashtag For Buhari And Alleged New Wife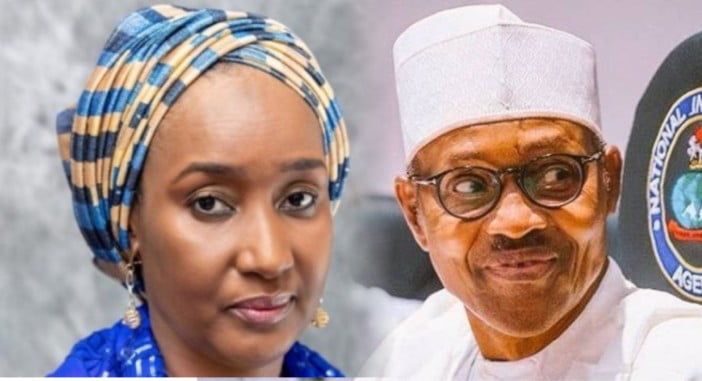 Yesterday, NaijaNews reported that President Muhammadu Buhari may be set to marry a new wife in the person of Sadia Umar Farouq.
The quiet wedding according to speculations is expected to hold today (Friday) at the Presidential Villa in Abuja.
Meanwhile, some Nigerians who wondered how the President could still find love at 76, have taken to Twitter to react to the development.
See reactions below:
They say no Alcohol will be served at this wedding

But since Buhari is heavily investing in Agriculture

We are popping Palmwine for the win #BUSA19 pic.twitter.com/EITXMnewxy

— Osi (@Osi_Suave) October 11, 2019
Remember colours of the Day

Ruga Green
Taxation Yellow
Pepper Dem White
Wailers Red
Tribunal pink. #BUSA19

— Osi (@Osi_Suave) October 11, 2019
https://twitter.com/TheZeeblizz/status/1182555893780496386
It's buhari's wedding, we got to look sharp! ✂ #BUSA19 pic.twitter.com/EbvqEypl5r

— Eche Zona (The Cruise Man) (@iampflow) October 11, 2019
So Pres.Buhari is getting married for the second time, and I am still single#BUSA2019 #BUSA19 pic.twitter.com/PytBK6TJlR

— Kennedy (@_realkennedy) October 11, 2019
https://twitter.com/FOnyeoziri/status/1182561195871686656
Nigerians when the caterers start sharing Fura instead of beer 😂😂#BUSA19 pic.twitter.com/gx3hE2AgQa

— OMOTAYO Of Lagos 💥 (@Tee_Classiquem1) October 11, 2019
Buhari telling Small Doctor to shut it down today#BUSA19 pic.twitter.com/1tjbcV1mKc

— Osi (@Osi_Suave) October 11, 2019
This is how I am going to gbe body mi inside Aso rock today.

Dia Father. #BUSA19 pic.twitter.com/bJmU9fiyah

— Banqie (@AdeBanqie) October 11, 2019
#BUSA19 or Aisha.

LET ME BE CLEAR FELLOW NIGERIANS.
THIS WEDDING MUST HAPPEN OR WE SHALL SCATHER THE WHOLE ASOROCK. THOSE SERVING JOLLOF RICE SHOULD START WITH US 1ST BEFORE THE GREEDY SENATORS., THEY MUST NOT PASS US BY. AND NO ONE SHOULD PARK BEHIND ANY G-WAGON. pic.twitter.com/GdBMa9cF4q

— 🛑 RICE DAVID ZUL🇳🇬 (@RyceDee) October 11, 2019
All set for #BUSA19 pic.twitter.com/ywJxQie2UH

— AmyHawt (@AmyHawt) October 11, 2019
The Govenor of Kwara state, Alh AbdulRahman AbdulRazaq don set for the weeding. 😁😁 #BUSA19 pic.twitter.com/EH9TXZJEDE

— RENEWED HOPE (@MediaApc) October 11, 2019
For those of us attending #BUSA19, I'll see y'all at the wedding. I'll be in charge of Àmàlà and Abula with correct Ogunfe. #theamalahangout pic.twitter.com/yOGcnw2lYJ

— Ogbeni Alaka 🇳🇬 (@Ogbeni_alaka) October 11, 2019