Minimum Wage: Labour Sends Another Warning To Federal Government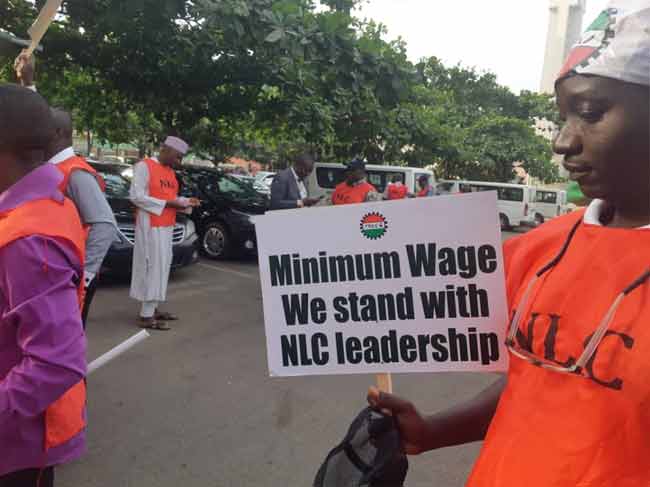 Labour Makes Fresh Demand On Minimum Wage
The organized labour in Nigeria has insisted there may be no going back on the planned workers' strike should government fail to agree on the implementation of the new minimum wage.
The chairman of the Enugu State chapter of the Trade Union Congress (TUC), Chukwuma Igbokwe stated this on Wednesday while speaking with newsmen in Enugu.
The labour leader who noted that Nigerian workers are no longer okay with the continued delay in the implementation of the new minimum wage by the Federal Government said they may be forced to commence strike action should government fail to meet labour's demand by close of work on October 16.
"We just got a letter from the national leadership of our union to start mobilising that is if at the close of work on October 16 government failed to meet up with labour's demand we shall call workers out for strike."
"If these things are not done by the close of work on Oct. 16, then we wait for further directive from our leadership on what to do.
"I can assure you now that every state has commenced mobilisation. Workers are angry and tired.
"You cannot be probating and reprobating. You cannot come out and say I will pay and tomorrow you come out and say, I will not pay," he said.
Meanwhile, Naija News reports that in order to avert the pending strike, Labour Minister, Chris Ngige has called for a high-level meeting with labour leaders on October 15 to discuss the full implementation of the new minimum wage.
Similarly, this online medium recalls that that leaders of labour unions on Tuesday had said they may embark on industrial action by the close of work on Wednesday, October 16, 2019, if the Federal Government failed to accept its demand on the consequential salary adjustment arising from the new minimum wage.
Download NAIJA NEWS app: