Full Audio Of Nnamdi Kanu's Broadcast On 1st 'Biafra Atonement Day' 2019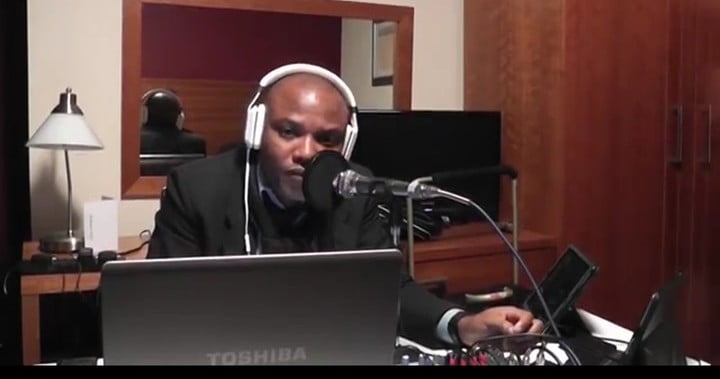 The full audio of live broadcast of the leader of the outlawed Indigenous People of Biafra (IPOB), Nnamdi Kanu, on the first day of the 'Biafra Atonement Day' 2019, has emerged.
Naija News reports that during the broadcast on Wednesday, October 9, which was his third broadcast of the month on Radio Biafra, the IPOB leader named the three people that make up the Republic of Biafra, which he is agitating for.
This online news platform understands that Kanu listed the "ancients Ndigbo" as well as the "pilgrims" among those that make-up Biafra.
During the broadcast monitored by this reporter, Kanu maintained that the Igbo land, which he calls "Biafra land," has never been homogenous in history, noting that "people already existed in Biafra land before the pilgrims came and the pilgrims came from two sides."
Kanu revealed that people came all the way from Egypt, Sudan, Niger, and some "parts of Yoruba land into the land of Biafra."
He also listed Ethiopia, Congo, Cameroon among the countries where migrants came from into Biafra land.
Similarly, Kanu warned "all Biafrans" that the Republic of Biafra will not come if they worship idols instead of God.
The IPOB leader warned all Biafrans that the battle to break away from Nigeria can only be achieved if they trust in God.
The IPOB leader said: "If we go into battle with zoo by placing any idol, I'm warning you tonight, if you place anything made by human, man or woman, that is a shape, a form, an idol, before us as we go into this battle, Biafra will not come.
"We will lose it because that is not the purpose for which Chukwu Okike Abiama sent us to West Africa, no! Not to worship idol but to do that which is right, to give him every adoration," Kanu told Biafrans on Wednesday.
Listen to the full audio below…
https://youtu.be/KMgwQPmw7Uo