Siblings Burnt Beyond Recognition In Lagos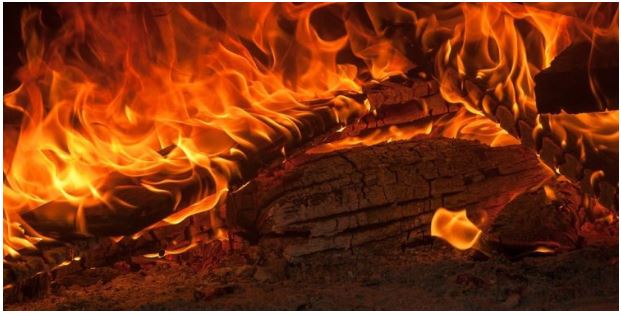 The environs of No. 4 Itundesan Street, near Odoro in the Ijede area of Lagos State, was thrown into disarray after two children of the same parents, Ganiat and Oyin Tunde, were burnt to death when a bungalow was razed.
According to a source, the fire started around 12.18 am on Saturday following an electric spark, which set shops in front of the building ablaze and spread to other parts quickly.
Danmola Ajani, an uncle to the victims noted that the building was the family's property and when the fire started, everyone was thrown into confusion.
He further stated that the father of the two kids, Tunde, an automobile mechanic, escaped through the window to push the car he brought home away from the inferno.
Ajani added that he had to push the car away from the house because there was a gas cylinder in the car, he added that a generator was also working at the time.
He, noted that the mother of the victims, Adijat escaped from the building, and picked up a baby boy, whom he said was not feeling fine.
According to him, before Tunde could return to rescue the two girls, they had already being burnt beyond recognition.
Ajani, who is a retired employee of the Lagos State Fire Service, said it was difficult to rescue the situation because there was no borehole around the area.
He stated, "As a former worker of the Lagos State Fire Service, I used my experience in the best way I could to rescue the situation. We had many constraints. We could not get any borehole nearby to fetch water to extinguish the fire."
"Some youths went to the lagoon to fetch water, which we used to extinguish the inferno before firefighters arrived."
"I called them long before they came. It is difficult to locate this place. The poor state of the roads contributed to our travail that day. It took them almost four hours to get to this place because of the extremely bad roads from Odoguyan to this place."
He said before he left the service, he made unsuccessful attempts to secure a piece of land to build a fire service station in Ijede.
One of the witnesses, Saliu Qudus, noted that he was outside when the fire started, he stated that if he had not gone to knock on windows and forcing them open, more people would have died in the incident.
The incident was confirmed by Mrs Margaret Onabajo, the Director of Fire Service, Lagos State.
Download NAIJA NEWS app: