Nigerians Reacts As Tacha Congratulates Mercy Over Victory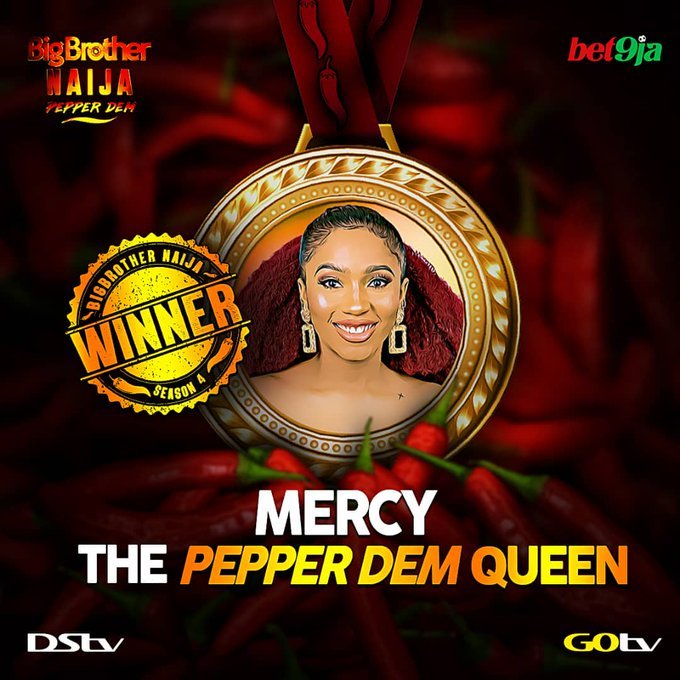 Yesterday, Big Brother Pepper Dem Edition came to an end and Mercy was declared winner of the show.
Early this morning, Tacha took to her Instagram page to congratulate Mercy on her victory, despite that they both had a fight which led to the disqualification of Tacha from the house.
This gesture has called for a wide range of reactions from Nigerians on twitter, especially her fans.
See reactions below:
Like it or not Tacha is already a brand, Titan is a movement and maybe eventually it will be a way of life ?#TachaRebranded

— Ovi Lee Okhale (@OviLeeFashion) October 7, 2019
https://twitter.com/Mrlongname2/status/1181150038946390016
Tacha is a free spirit, yes she can be defensive when need be but she's a sweet and fierce bitch who doesn't keep grudges nor spread bitterness. Only a true Legend would understand Tacha because Natacha is way different from your regular favorites ??#TachaRebranded pic.twitter.com/ai2K6hhcuv

— Ethel Moses (@Etebuddy1) October 7, 2019
https://twitter.com/wunmi201/status/1181156013690544129
This is the person we saw on the show, loved and fought for… And you are proving this to the world daily. #TachaRebrand#TachaRebranded https://t.co/8otkt3ibal

— NgoziChukwuka (@VivienNgozika) October 7, 2019
The queen standing g tall and still undefeated @Symply_Tacha #TachaRebranded pic.twitter.com/SG2rnDMtdO

— BELLA'S_COLLECTIONS??? (@IlounoEbere) October 7, 2019
Kill Them With Kindness Mood activated ☺️☺️☺️☺️Tacha do you remember this day? Man you are talented look at what you made? A week of kindness. You are a STAR @Symply_Tacha #TachaRebranded #TachaRebrand pic.twitter.com/E8D1C2mfJ9

— T. H. A. B. E. L. O.??? (@thabelomaanda) October 7, 2019
When I choose you I was trolled, not knowing I was about to witness the beginning of something great. It's coming!#TachaRebranded pic.twitter.com/JyK9ihHR59

— Terrestrial Forces ? (@Terrestrialforc) October 7, 2019
Am not a fan, but I will be sincere for once, Tacha got a sweet heart, go and prosper IJN #TachaRebranded pic.twitter.com/ezAu4d9ZP4

— Profit (@profitojo) October 7, 2019
Kill Em With Kindness @Symply_Tacha, Fav Fi Life ???? #TachaRebranded #EverthingTacha pic.twitter.com/W3FgpASEMR

— Tinny Oracle (@TinnyOracle) October 7, 2019
https://twitter.com/BasseyJanney/status/1181170573612847104
https://twitter.com/symply_pearl/status/1181170499277209600
https://twitter.com/zuluasks/status/1181154479514759168
Queen ? Tacha ha created a family called Tatiana which is now a movement that speaks of love .the hate u give we pay u with love. But dnt push us to the wall. Cuz we are family. Family first. #TachaRebranded

— Cash Nwogu????? (@cash_nwogu) October 7, 2019
Titans we made it to instablog we're not a ordinary fan base……..#TachaRebranded pic.twitter.com/SHJ4U0yi8Q

— elenu jaa wire? (@Sleemzy12) October 7, 2019
#TachaRebranded anybody that is praising you is stupid… You went there brought your stupidity out and got disqualified, its nobody's fault but yours.. So next time if you wanna make it in life, stay humble all the way .#FunplayWithKeneric

— Nelson Eric (@Keneric007) October 7, 2019