Group Makes Strong Accusation Against CBN Governor, Reports To Buhari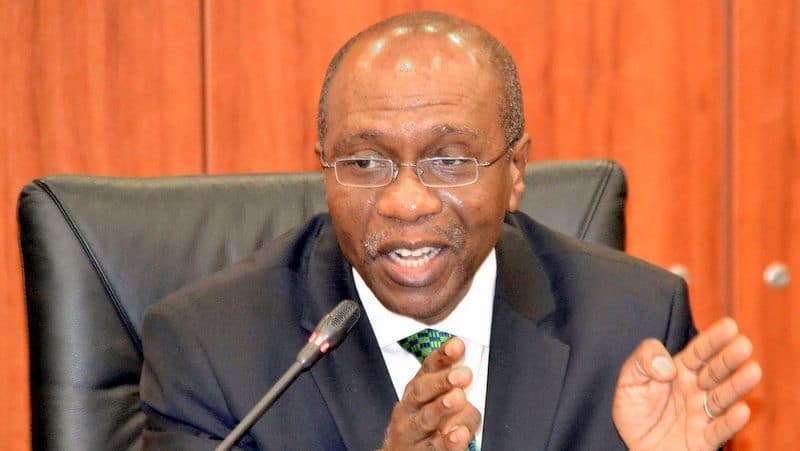 A group in South-Eastern Nigeria, Zikist-Buharist Movement (ZBM) has accused the governor of Central Bank of Nigeria (CBN), Godwin Emefiele of marginalising South East and South West in intervention programmes of the apex bank.
The group made the accusation against Emefiele in a statement by the chairman, Rt. Hon. Stanley Ohajuruka and Secretary, Godwin Onwusi, ZBM in Enugu on Sunday, October 6.
The group alleged that Emefiele patriotically funds agricultural intervention programmes in South South, his home region and the Northern states, while South East and South West were abandoned.
In the statement obtained by Naija News, the ZBM called on the Presidency to immediately call the CBN Governor to order before he jeopardises the genuine intentions of the "Next Level" government of President Buhari.
The group expressed fears that if Mr. President does not call Emefiele to order immediately, South East and South West will also be marginalised in the livestock programme.
The statement read: "Whereas the Zikist-Buharist-Movement (ZBM) appreciates the agrarian revolution of President Muhammadu, via the Central Bank of Nigeria (CBN)intervention programme, we wish to report to Mr President that the Governor of Central Bank of Nigeria, Godwin Emefiele seems deliberately to be marginalizing the South East and South West geopolitical zones.
"We have watched helplessly how the CBN has patriotically funded the Cross River, Kebbi and other geopolitical zones gigantic rice projects, the Cotton, Sorghum, Soya beans projects in the north; while the cocoa, palm produce and cassava belts in the South West and South East are more or less abandoned.
"ZBM appeals to Mr President to reign in the CBN Governor the truism that what is good for the goose is good for the gander. As our understanding of Mr President agrarian revolution is for every nook and cranny of the federation to produce what we eat and to diversify our mono-oil economy," it stated.
ZBM told Mr President that "as things stand the Governor may marginalise the South East and South South in the upcoming livestock projects, forgetting that they want to advance our poultry, piggery, goat farming and fisheries."