Crowd Amazed, Laughs As Osinbajo Ask People To "Gbe Bodi E' At Independence Day Dinner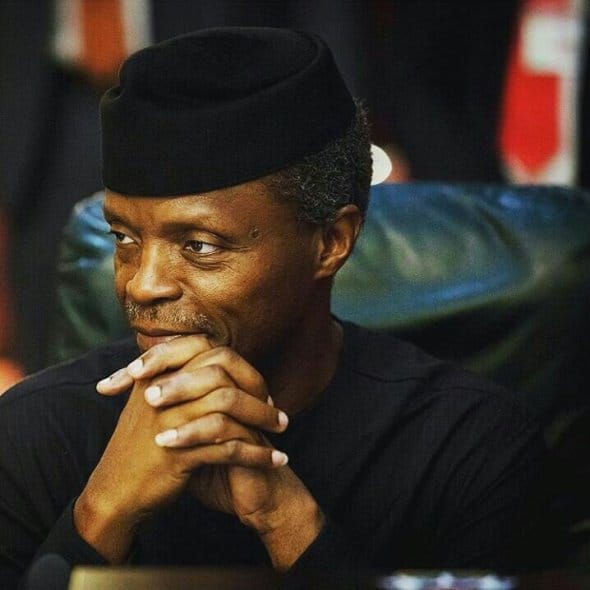 Vice President, Yemi Osinbajo threw the audience at a dinner organized to commemorate Nigeria's 59th independence anniversary into laughter when he displayed that he is conversant with the developments in the entertainment industry.
Osinbajo showcased his knowledge of contemporary dance steps in the country.
He said "One of the attributes of the Nigerian people is the uniquely confident way we stand out- what many call the Nigerian swag," 
"With dance, whether it is Skelewu, Shakitibobo, Shaku-Shaku or Zanku, every Nigerian can dance and where necessary 'Gbe body e'.
"From Skelewu to 'Sekem'…'Skelewu' to 'Shakiti bobo' to 'Shakushaku' and the most recent, 'Zanku'. I am sure you all know how to 'gbese …gbe body e'. So all over the world, everybody is 'gbeseing' now.
"Nobody dances like us, it doesn't matter whether you are the distinguish senator representing Kogi-west or the distinguish senator representing Osun-west, nobody dances like us."
In a bid to show the audience what he meant, videos of a groom dancing; a white man singing one of Nigeria's popular dance songs, as well as that of Dino Melaye, senator representing Kogi-west were shown.
One of the attributes of the Nigerian people is the uniquely confident way we stand out – what many call the Nigerian swag.

With dance, whether it is skelewu, shakitibobo, shaku-shaku or zanku, every Nigerian can dance and where necessary "Gbe body e" pic.twitter.com/Y8o4VRsrrp

— Prof Yemi Osinbajo (@ProfOsinbajo) October 2, 2019