Voodoo Goes Wrong As 'Yahoo Boy' Hits Lagos Street (Video)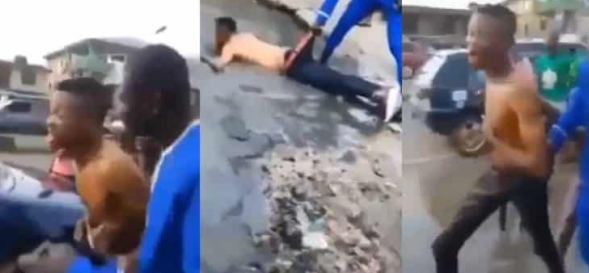 A young boy, suspected to be in his early 20s was found screaming for help on the streets of Lagos, Nigeria's commercial city.
Naija News understands that the young boy whose full identity is still yet-to-be-identified was captured in an attitude which some described as the 'result of his vodoo (juju) going wrong.'
In the video clip obtained by Naija News, the middle-aged boy was noticed chanting "I want to do yahoo, I must collect money."
While some claim that the attitude of the alleged 'Yahoo Boy' might not be unconnected to the effect of drug abuse, some are of the opinion that the young man might be under the influence of alcohol.
Although Naija News can not categorically establish any of these claims by speculators, the young boy was monitored on the video clip chanting "I want to do Yahoo".
Subsequently, the young man repeatedly banged his head against the edge of a pavement, kneeling on the ground and behaving 'not to be too normal,' while observers watch him with their phones, recording his act.
In the viral video, the young man with his trousers sagging towards his kneels was seen illustrating as if he was on his laptop, tapping on the keys of his keyboard.
Having surfaced online, the video had since gone viral and had since been making the round on the internet.
Watch the video below;