Nigerians Reacts As Headies Release List For 13th Edition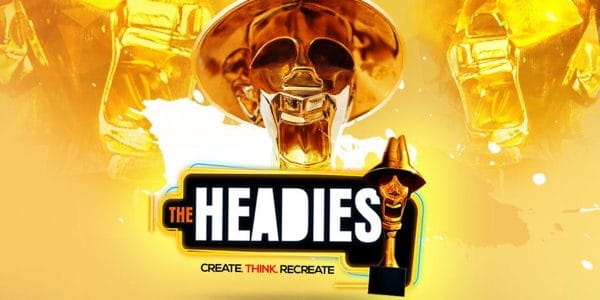 Organizers of Nigeria's biggest and most prestigious music award show, The Headies have revealed the full list of nominations for the 2019 awards.
Naija News reports the 2019 awards is the 13th in the series of awards and this year's show is scheduled to hold October 19th, 2019.
See the list here.
Meanwhile, Nigerians have taken to Twitter to react.
See reactions below:
The #13thHeadies Nominees List is finally out!

ISSA THREAD ???

1. NEXT RATED
– Rema
– Joeboy
– Fireboy DML
– Victor AD
– Lyta
– Zlatan pic.twitter.com/wAWn4Iwi9T

— S P L O O F E E K #BBNaija (@sploofeek) October 1, 2019
Pick your next rated artiste.
RT for Rema.
Like for Fireboy DML.#13thHeadies pic.twitter.com/gBDP0BhRoy

— Crisscross Africa (@crisscrosafrica) October 1, 2019
If Rema doesn't win next rated

He will just jump on stage and be shouting

"Whyyyyy,whyyyy, i just wonder why and i travel milessssss"
☠??#13thHeadies pic.twitter.com/FUH3yLUnRp

— Mazi Common Sense? (@TunzDev) October 1, 2019
I hope this thing will not happen again. Rema Fireboy #13thHeadies pic.twitter.com/FRDFVUBMpo

— Abiola⚙️ (@thee_abiola) October 1, 2019
This one is for the Street!!!

BEST STREET-HOP ARTISTE

1.@erigganewmoney – 'Motivation'
2.@ChinkoTiger – 'Able God'
3.@Zlatan_Ibile – 'Leg Work'
4.@realbarryjhay – 'Aiye'
5.@official_lyta – 'Time'

Who is taking this plaque home?#13thHeadies pic.twitter.com/YqVPur3CzG

— IG: the_headies (@The_Headies) October 1, 2019
Who is your winner?

Reply with the #13thHeadies pic.twitter.com/S3VETWfzmI

— ThePSYCHOLOGIST (@yemitwist) October 1, 2019
Zlatan, Rema, Joeboy, Fireboy, Victor AD and Lyta have all been nominated for Next Rated category at this year's Headies.#13thHeadies pic.twitter.com/FUQFBI5Azl

— 102 WAYS (@Hello102ways) October 1, 2019
BEST POP SINGLE CATEGORY

1.'Ye' – @burnaboy
2.'Wetin We Gain' – @victor_adere
3.'Fake Love' – @duncanmighty1st
4.'Case' – @tenientertainer
5.'Jealous' – @fireboydml
6.'Baby' – @joeboyofficial#13thHeadies pic.twitter.com/RgxrI66MUU

— 102 WAYS (@Hello102ways) October 1, 2019
BEST PERFORMER CATEGORY

1.@falzthebahdguy
2.@TiwaSavage
3.@BrymOlawale
4.@yemialadee
5.@adekunleGOLD#13thHeadies pic.twitter.com/HUPWmlO3Yn

— IG: the_headies (@The_Headies) October 1, 2019
Tay, Odunsi , Lady Donli and Tems all nominated for awards, the industry is finally listening. Amazing to watch #13thHeadies

— Efe (@efemaduks) October 1, 2019
Tay, Odunsi , Lady Donli and Tems all nominated for awards, the industry is finally listening. Amazing to watch #13thHeadies

— Efe (@efemaduks) October 1, 2019
On a second thought I think Victor AD deserves this Next Rated award ahead of Zlatan, Rema and co.

Let me start by saying Rema, Fireboy and Joe boy just came 2secs and dem never burst everywhere reach Victor AD and I don't think they deserve to be on the list.#13thHeadies

— M☆nkind (@tweetmankind) October 1, 2019
This one hot oooo ? hot who I said who. #13thHeadies pic.twitter.com/4G5SQdMStR

— Ahmmedoc (@ahmmedoc) October 1, 2019
Am the only one who feels this category is Fire??#13thHeadies pic.twitter.com/bCHae5myb9

— Jhozi Joker (@Jhozijoker11) October 1, 2019
Let's talk guys.

Who wins it for you? ? #13thHeadies pic.twitter.com/dZ8OwPhhGZ

— Somto ? (@SomtoSocial) October 1, 2019
What is this bayii remove Zlatan jare baba don pass this level.. Remove zlatan and put Tclassic#13thHeadies pic.twitter.com/9Pp2jdyWIo

— Tobi Ace ♠ || The Oracle (@TobiAce007) October 1, 2019
The #13thHeadies Nominees list..
ROOKIE OF THE YEAR:
– Crayon
– Buju
– Barry Jhay
– Oxlade…. pic.twitter.com/BOfg1ojFoE

— Musical Critic (@MusicalCritic) October 1, 2019
NEXT RATED CATEGORY!!!!!!

1.Rema – @heisrema
2.Joeboy – @joeboyofficial
3.Fireboy DML – @fireboydml
4.Victor AD – @victor_adere
5.Lyta – @official_lyta
6.Zlatan @Zlatan_Ibile

WHO IS GOING HOME WITH THE AWARD AT THE #13thHeadies and why is TClassic missing here ? pic.twitter.com/buDmEJttWs

— T U N D E #BBNaija (@Misterkobz) October 1, 2019
Hear the brand new beats from @Realonyechi

Title "Natasha"
I can't stop playing this song. This young man is clearly a genius.

Retweet this until all DJs in Nigeria have it on their playlist.#IndependentTacha#13thHeadies https://t.co/DOQ4uIAdha

— Comrade ????????? (@iAGB4REAL) October 1, 2019
My own is, what is Rema doing in the same category with Zlatan??
What is Lyta doing there with Zlatan?
In short, Zlatan is bigger than that category and headies put together!!!
If I be Zlatan, I no go come the award show…rubbish? #13thHeadies pic.twitter.com/rQKJbbuCKe

— THIS BOY IS TOO SWEET (@UkwuBright) October 1, 2019
Don't y'all think Naira Marley's missing from this category????#13thHeadies pic.twitter.com/2gdAtXuAkj

— Kingsley Sylvester? (@mistar_sly) October 1, 2019
Rudeboy and mr p suppose make this list,they both up coming too na no album yet #13thHeadies pic.twitter.com/8QhrXP8TOw

— Kingslayer (@GrPhelix) October 1, 2019
But why's Nairamarley not on this list ? #13thHeadies pic.twitter.com/cZGNxjoxbA

— Sa Jo Ba (@Sajoba_a) October 1, 2019
And who is crown again?#13thHeadies pic.twitter.com/ku8zkRkY1T

— Temitayo Ponle (@temmyponle) October 1, 2019
The Next Rated Category of the #13thHeadies in one sentence. pic.twitter.com/qJXfH9QySp

— Holu (@miztaholu_) October 1, 2019
Who are you voting for in the Best Rap Single category? #13thHeadies

Retweet and reply pic.twitter.com/nXq2q9aozI

— Biyi The Plug ? (@BiyiThePlug) October 1, 2019
Anticipating another donjazzy vs Olamide this year #13thHeadies pic.twitter.com/jmAM8UJK1F

— Willix_jay (@JayWillix) October 1, 2019