Sowore: AAC Gives Fresh Directive To Supporters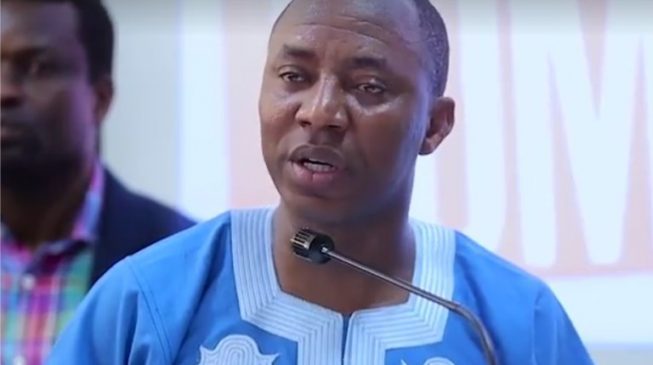 The African Action Congress (AAC) has charged its followers to come out in their numbers to support its 2019 presidential candidate, Omoyele Sowore at the Federal High Court, Abuja.
Naija News reports that the President Muhammadu Buhari-administration had filed charges bordering on treasonable felony and money laundering against Sowore, the publisher of Sahara Reporters.
Sowore, who was also the presidential candidate of African Action Congress (AAC), is charged alongside Olawale Bakare, also known as Mandate, in a seven-count charge filed by the office of the Attorney General of the Federation.
The Department of State Services (DSS) had claimed that the publisher of SaharaReporters was involved in acts of terrorism and plotted to topple the government; allegations he has since denied.
In the charges filed in court, the Attorney-General of the Federation and Minister of Justice, Abubakar Malami (SAN), accused the duo of committing conspiracy to commit a treasonable felony in breach of section 516 of the Criminal Code Act by allegedly staging "a revolution campaign on September 5, 2019, aimed at removing the President and Commander-in-Chief of the Armed Forces of the Federal Republic of Nigeria."
Naija News gathered that Sowore's trial is scheduled to begin on today, Tuesday.
In a statement sent to AAC members, the National Organising Secretary of the Party, Comrade Oshioks, urged members to storm the court so as to send a strong message to the federal government.
He said, "We are all expected to be at the Federal High Court, Maitama, Abuja, on days our national leader, Sowore, will be brought for his court hearing.
"The solidarity from us will send the right message to those who have trampled on his fundamental human rights for the past 52 days and counting.
"It will let the Nigerian Government know that the people know Sowore as a man different from the allegations cooked up against him.
"Comrades, we are all encouraged to kindly attend these proceedings in solidarity. We should be in court as early as 8:00 am daily."