Tribunal To Give Judgement In Adelabu, Makinde's Case Today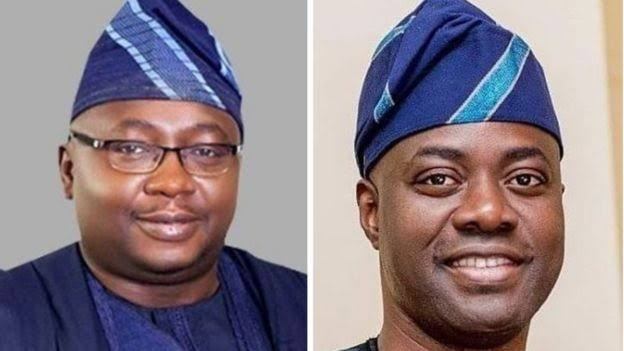 The Oyo State Governorship Election Petition Tribunal sitting in Ibadan will today (Monday) decide the actual winner of the March 9, 2019 governorship election between Governor Seyi Makinde of the Peoples Democratic Party (PDP) and candidate for All Progressive Congress (APC), Bayo Adelabu.
Adelabu went to court to challenge Makinde's victory after the Independent National Electoral Commission (INEC) announced the winner as the winner of the elections.
After many weeks of legal fireworks, the governors' request court recently admitted the final written statements submitted by Makinde, Adelabu, PDP and INEC.
While adopting its final statement, through its legal counsel, Akinolu Kehinde (SAN),  INEC urged the court to dismiss the petition for a serious lack of substance.
Kehinde had stated that the petitioners erroneously imposed the burden of proof on INEC, while the petitioners were responsible for the evidence.
He claimed that the petitioners had complained about irregularities at 1334 polling stations and had only called 38 members of the polling station. Most of them confirmed that the elections organized by the INEC were in accordance with the electoral law.
Kehinde also stated that it was up to the petitioners to bring at least one of the 1,334 voting units they complained to and urged the court to dismiss the petition.
Makinde's lawyer, Dr. Omyechi Ikpeazu (SAN), stated that the reliefs requested by the petitioners were wrong and that the evidence of the other witnesses who had not been arrested were not rumours.
By adopting his last written speech, PDP lawyer Nathaniel Oke (SAN) had urged the court to dismiss the motion for insufficient evidence and lack of merit.
Yusuf Alli (SAN), the lawyer representing Adelabu and APC, urged the court to conclude that the motion was founded and that the other unclaimed witnesses had duly submitted their statement in court.
There he had stated that, according to the law, the number of witnesses called could not prevail over what had been duly presented in court.
According to him, the number of witnesses cited was not retained, but the quality of their testimony was added, adding that the testimony of Witness No. 62 of the Applicants (PW62) says a lot.
There he had declared that there were massive electoral violations in 28 of the 33 local government areas convened and that a document had been adopted after its adoption.
He had stated that anyone, not only the manufacturer, could deliver a certified copy of a document, urging the court to determine its merit.
The panel of three members of the tribunal chaired by Judge Sirajo Muhammed congratulated the councils for their cooperation throughout the process and added that they would be informed of the judgment date.
In an interview with journalists, Adelabu, present in court, called on his supporters to calm down and respect the law, announcing victory.
Download NAIJA NEWS app: