EPL: David Luiz To Blame For Arsenal's 2-2 Draw Against Watford – Martin Keown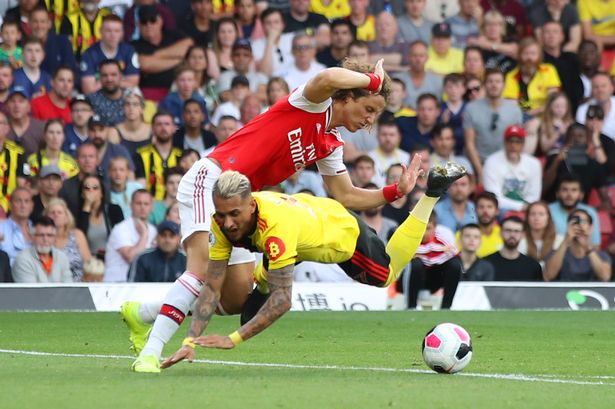 Legendary Arsenal defender Martin Keown has blamed David Luiz for the Gunners 2-2 draw against Watford in the English Premier League (EPL).
Second half errors from Sokratis and David Luiz cost the Gunners all three points, after Pierre-Emerick Aubameyang's early brace, was cancelled out.
Tom Cleverley pulled one back before Robert Pereyra equalized from the spot.
Speaking on Match of the Day 2, Keown stated that David Luiz was unable to defend in a one-on-one situation during the game.
"It's unbelievable. Arsenal are 2-1 up but they seem to be in a desperate mode to try and attack. Manage the game. There are five bodies in the box as Arsenal tried to get a third.
"It was really open, from one end to the other. The Arsenal defence don't come up to the problem.
"They melt away and drop and get ever closer to their penalty box. And David Luiz in a one-on-one situation just cannot defend, that's the end of, and they know that too.
"He draws the foul and that's the penalty. Arsenal throwing away vital points here. You've got to adjust. That's work on the training ground. That's shocking to see," he said.