Rape: Dakolo Attacks Kemi Olunloyo, Says I Make N10m In A Weekend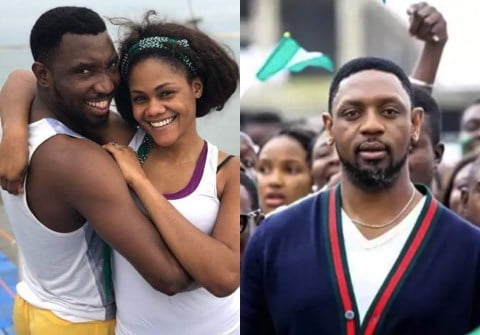 Popular Nigerian singer, Timi Dakolo, has attacked controversial journalist, Kemi Olunloyo, for mocking his wife, Busola Dakolo, who accused the senior pastor of the Commonwealth of Zion Assembly, Biodun Fatoyinbo of rape.
The musician stated that the N10m claimed to be demanded by his wife could be made by him in just one weekend of performing at shows.
Dakolo said this in an Instagram video on Tuesday.
He said, "Don't mind stupid people. As I dey like this, na N10m be my problem? Nigerians please have sense before you comment. Before you tweet, ask questions. It will save you."
"How much is N10m? Do you know how much one-weekend show is? Do you know how much it costs for me to use a studio? Somebody should please invite Kemi (Olunloyo) to join my life. Do I look like N10m is my problem?"
There had been speculations on Monday claiming that Dakolo's wife demanded that Fatoyinbo should pay N10m to cover her legal fees.
Olunloyo has been accusing the Dakolos of extortion and telling lies against Fatoyinbo for several months.