Nigerians Roast Sanusi, Fayemi, El-Rufai Over South Africa Visit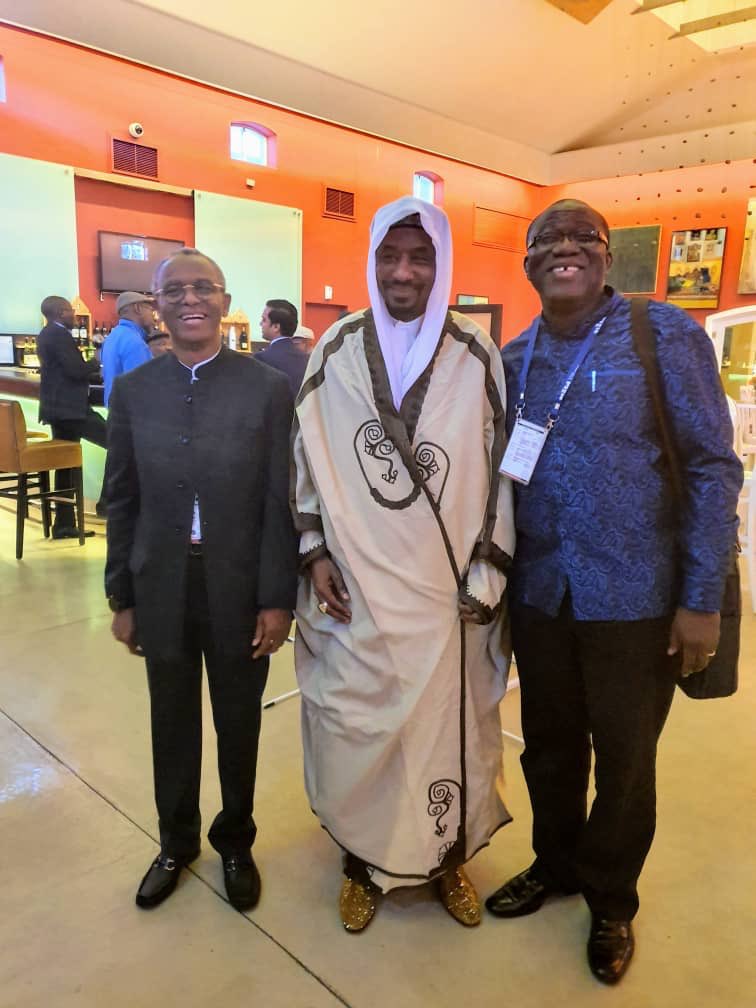 A storm of reactions by Nigerians has greeted the visit of Emir of Kano, Muhammad Sanusi II, to South Africa amid the Xenophobic attacks on Nigerians in the country.
Naija News had reported earlier that the Emir of Kano was spotted dining in South Africa alongside Governors Kayode Fayemi and Nasir El-Rufai of Ekiti and Kaduna states respectively.
The development came after Nigerians raised the alarm over the appearance of Jim Ovia and other Nigerians including a former minister Oby Ezekwesili at the World Economic Forum Africa 2019, taking place in Cape Town, South Africa.
Naija News recalls that properties including cars belonging to Nigerians in the country were set ablaze by South Africans in the wake of the Xenophobic attacks.
In a viral video, South Africans also looted shops belonging to Nigerians. At least three people were also feared dead during the Xenophobic attacks.
Apparently displeased with the attacks, Nigerians took to Shoprite premises around Jakande, Lekki in Lagos to protest the Xenophobic attacks.
The protest in its wake left a yet to be identified person dead, with a witness describing the victim as a protester who was killed after an angry mob set a police van on fire during a protest on Tuesday.
Reacting to the Xenophobic attacks, the Nigerian government through Bashir Ahmad, an aide to President Muhammadu Buhari, said it was boycotting the WEF.
"Nigerian government has boycotted the World Economic Forum holding in Cape Town, South Africa, but some individuals from Nigeria including a former Minister are attending on their own. Madam Oby Ezekwesili, she is attending the WEF in Cape Town, South Africa," the Presidential aide tweeted.
While the Federal Government said it was boycotting the WEF, Emir Sanusi, Governors Fayemi and El-Rufai on the other hand, attended another conference in South Africa after which they were spotted having dinner in Stellenbosch, South Africa on Wednesday, September 4.
Gov. Nasir El Rufa'I of Kaduna State, His Royal Highness Dr Muhammad Sanusi II CON Emir of Kano, Gov. Fayomi Kayode of Ekiti State at Conference Africa in the World in Stellenbosch, South Africa.

Wednesday 4th September, 2019.#emirofkano #masarautarkano #kanoemiratecouncil pic.twitter.com/Zw4uAYPeLt

— Kano Emirate Council (@masarautarkano) September 5, 2019
Displeased with the visit, Nigerians took to the micro-blogging site, Twitter, to blast the Monarch and the governors.
Naija News captured some of the reactions below…
Nigerians boycotted the WEF yet we have Aunty oby, Governor Kayode Fayemi, Emir of Kano, Governor Nasir El-Rufai in South Africa to watch Bafana Bafana of South Africa VS Super Eagles of Nigeria Match.

Hypocrites everywhere in Nigeria APC.

— Comrade Bolanle Esq 🇳🇬 (@BolanleCole) September 5, 2019
So Mallam Nasir El rufai, Emir Sanusi Lamido Sanusi, and Governor Fayemi were all at the WEF, but @BashirAhmaad and Buharists singled out Oby because maligning her will make us forget our President can't pronounce Xenophobia.

— BONARIO NNAGS (@bonario89) September 5, 2019
The lawlessness in the land is pervasive. Will any Republican Governor defy President Trump to visit a country he had declined invitation to visit based on the circumstances like we are witnessing in SA? But El'Rufai and Fayemi had to go. Total insult and disregard of PMB.

— Mazi (@matthewamad) September 5, 2019
Does the Nigerian Government understand the meaning of WEF boycott or they were simply catching up with smaller African nations who took the same action? Many Nigerians overrate the wisdom that runs the Nigerian Government. El Rufai and Fayemi knew they could get away with this.

— Ohimai Godwin Amaize (@MrFixNigeria) September 5, 2019
Just so you know, Madam Oby is not the only person that attended WEF in Cape Town, South Africa.

~Governor Kayode Fayemi.
~Governor Nasir Elrufai.
~Amina Jane Mohammed
~Emir Sanusi Lamido Sanusi and others attended the WEF too.

— Anambra 1st son💭 (@UchePOkoye) September 5, 2019
While I was calling out on Madam Oby & Jim Ovia, I didn't even know Emir Sanusi, Governor Kayode Fayemi & ElRufai were also in #WEF2019. Who says the government boycotted the event then? Aren't we a hypocritical & an unserious people? #SayNoToXenophicAttacks

— Olaudah Equiano® (@RealOlaudah) September 5, 2019
Apparently, Gov. Elrufai, Gov. Kayode Fayemi, Emir Sanusi Lamido Sanusi and Amina Jane Mohammed were also in attendance at the WEF Summit. So who exactly are these guys answering to if they can go against the President's order? Except the 'boycott' was just for the headlines.

— Wale Adetona (@iSlimfit) September 5, 2019
Wait. What is Emir Sanusi doing in South Africa? Come on!!! https://t.co/6YBX74JRSv

— Gimba Kakanda (@gimbakakanda) September 5, 2019
@BashirAhmaad somehow, you only noticed a former minister of Igbo extraction as the only one who attended WEF in South Africa- in this pictures are @elrufai , Emir Sanusi and @kfayemi at same Forum. You are the spokesperson of the President of the federal republic act as one! pic.twitter.com/RHdXvHnfHH

— Ayekooto (@thebardogbamola) September 5, 2019
Read More News. Download Naija News App. Send us enquiries and press releases.