What Prophet TB Joshua Said About Xenophobic Attacks On Nigerians (Video)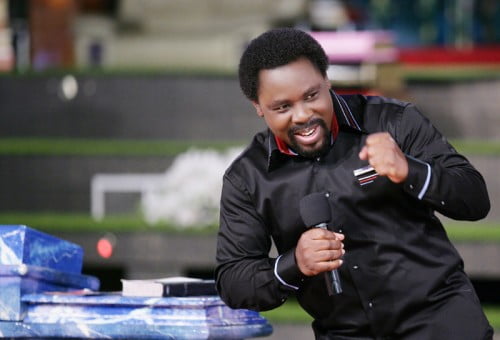 Prophet T.B Joshua, the founder of the Synagogue Church of All Nations (SCOAN), says no "African country can succeed alone" in what appears to be a reaction to the recent Xenophobic attacks on Nigerians in South Africa.
Naija News had reported earlier that properties including cars belonging to Nigerians in the country, were set ablaze by South Africans in the wake of the Xenophobic attacks.
In a viral video, South Africans also looted shops belonging to Nigerians. At least three people were also feared dead during the  Xenophobic attacks.
Apparently displeased with the attacks, Nigerians took to Shoprite premises around Jakande, Lekki in Lagos to protest the  Xenophobic attacks.
The protest in its wake left a yet to be identified person dead, with a witness describing the victim as a protester who was killed after an angry mob set a police van on fire during a protest on Tuesday.
Reacting to the Xenophobic attacks, Prophet TB Joshua said: "No African country can succeed alone. Africans need each other to develop. For example, West Africa needs Southern Africa and Southern Africa needs West Africa to develop. North Africa needs East Africa and East Africa needs North Africa to develop.
"Indeed, we are indispensable to each other; we cannot do without each other. No one is self-sufficient. Dear Africans, we should not let other fellow Africans feel unwelcome to our countries. Everyone has a contribution to make. Whether you are poor, rich, immigrant or refugee – you have a contribution to make.
"With regard to issues of illegal immigrants, drugs and other crimes, our duty is to work with the law enforcement agencies by giving them useful information. It is only when these agencies fail that we can lawfully protest.
"Africa has neglected her youths. Africa has abandoned the youths to themselves. Africa has failed to make provision for the youths, whereas tomorrow's Africa is the youths. I speak calmness to my nation, South Africa, in the mighty name of Jesus Christ!"