PDP Reveals What International Community Has Done To Nigeria Under Buhari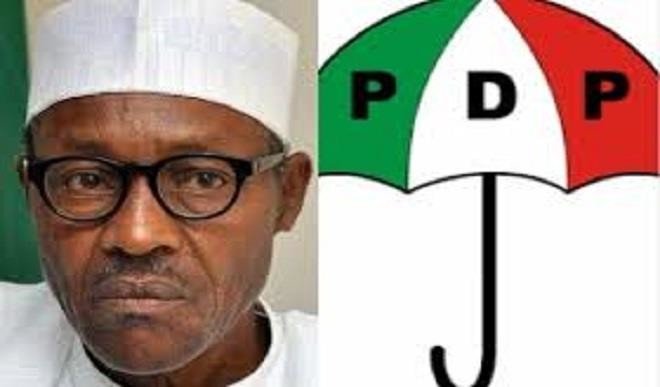 PDP Tackles Buhari In Fresh Outburst
The Peoples Democratic Party (PDP) has described President Muhammadu Buhari's outing in Japan at the just concluded TICAD 7 as disgraceful.
The main opposition party made the claim on Sunday, noting that the international community and investors gave poor attention to President Buhari during the outing.
The position of the PDP was made public in a statement by its National Publicity Secretary, Mr Kola Ologbondiyan who added that the President and his team only came home with promissory notes and nothing tangible.
Ologbondiyan said, "The conference has shown that no world leader or international investors want to do any real business with Nigeria under President Buhari, mainly because of the legitimacy burden of his presidency arising from the rigging of the February 23 presidential election, as well as overt impunity, corruption, treasury looting and recklessness that pervade his administration.
"It is lamentable that while President Buhari and his party, the All Progressives Congress are celebrating a mere pledge of $300,000 (N108m) from the Japanese Prime Minister and a promissory note for E50m from an EU commissioner, his Ghanaian counterpart, Nana Akufo-Ado, sealed a deal with automobile giant, Toyota, to immediately establish a Toyota and Suzuki manufacturing plant in Ghana with a determined timeline of August 2020 for production.
"The multinational had also signed a deal to establish a similar plant in neighbouring Ivory Coast with a Memorandum of Understanding to that effect already signed last Thursday."
According to Ologbondiyan, Toyota and other investors are neglecting Nigeria because of the unfavourable economic climate prevailing in the country under President Buhari.
The PDP spokesperson in another statement, also accussed President Buhari of failing in his responsibilities of governing Nigeria.
He said, "The PDP notes with dismay that the Buhari presidency only stops at issuing condemnations, publishing commiserations and embarking on condolence visits with empty assurances, but takes no definite steps to address the situation and bring culprits to book.
"This complete failure of leadership and abdication of the statutory duties of the President indicates that the Buhari presidency has no solutions towards ensuring the security of lives and property in our nation."