Buhari Shocks IPOB's Nnamdi Kanu In Japan, Returns To Nigeria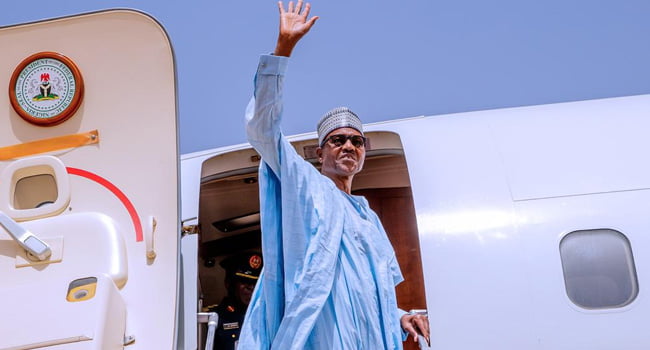 Muhammadu Buhari, Nigeria's president on Saturday arrived the presidential wing of the Nnamdi Azikiwe International Airport in Abuja.
Naija News reports that the arrival of Buhari comes after attending the Seventh Tokyo International Conference on African Development (TICAD 7) in Yokohama, Japan.
The President arrived Abuja in the company of some members of his entourage who arrived the international airport at about 11:38 p.m, Saturday.
Recall that at the event in Yokohama, the president presented Nigeria's Statement at Plenary Session Three on "Public-Private Business Dialogue".
He assured potential investors of good returns as a result of ongoing reforms initiated by his administration in the last three years.
However, President Buhari's arrival from his official trip to Japan comes after the leader of the proscribed Indigenous People Of Biafra (IPOB), Nnamdi Kanu had said that members of his group had encircled and trapped President Buhari in a Yokohama hotel in Japan.
Recall that Kanu had in a statement on Thursday alleged that his group knows where the President's presidential jet is and will never allow him to leave Japan.
"We smell blood and are closing in for the kill. Jubril-Buhari is encircled and trapped by IPOB in his hideout in a Yokohama hotel. There is no escape for him. We know where his presidential jet is and will never allow him to leave Japan. Even if they try to smuggle him out by hiding him in a diplomatic bag, we shall get hold of him," Kanu had said.