Nigerians React As Tribunal Nullifies Dino Melaye's Election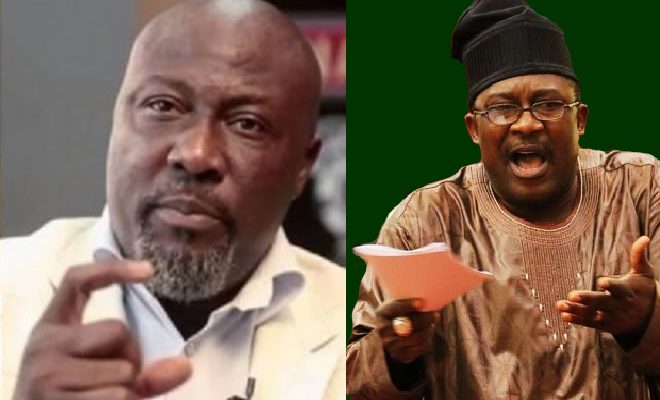 The election petition tribunal sitting in Abuja, Nigeria's capital, has nullified the election of Senator Dino Melaye.
Naija News reports that the tribunal nullified Senator Melaye's election on Friday morning, August 23.
This online news platform recalls that Mr Melaye was declared the winner of the Kogi West Senatorial election by the Independent National Electoral Commission (INEC) in February.
Meanwhile, the decision of the tribunal has generated several reactions. Here are some reactions:
On Tribunal judgement. No cause 4 alarm at all. Even if it went my way they will still go to the Appeal Court. Our mandate can not be taken. We will get judgment at the Appeal Court. There will be fresh election in Kogi West bc I will be Governor. For my Senate mandate no shaking

— Senator Dino Melaye. (SDM) (@dino_melaye) August 23, 2019
Sorry, take hert

— Comrade Mturaka (@IbrahimTuraka) August 23, 2019
And who that is waiting to laugh last might not see the teeth and lips to laugh ???

— Charles Uzochukwu (@CharlesUzochuk6) August 23, 2019
You struggling with your senatorial district, how will you be the Gov if you don't win your own district… Charity begins at home, do your homework right, it's grassroot politics now not Twitter…. Best wishes………

— Onike_hakeem (@onike_hakeem) August 23, 2019
His excellence, you have always be on the side of the people and it is our turn to be on your part. God will fight for you sir pic.twitter.com/TOF1AYBO3v

— DREAM @ MIDNITE (@dreamyman1) August 23, 2019
Let me know when you wake up from ? because i can't talk to you while you are dreaming.

— Eneojo Musa (@eneojomusa) August 23, 2019
You want to finish your political career in a daylight? Your political career can face a worse scenario if you continue to pursue the governorship ticket. You have never been a good representative of the Okuns

— Cosmopolitan (@e_omotunde) August 23, 2019
How sure are you?
This wan they have sacked you from senate pic.twitter.com/GMkb1YTP3T

— Ogochukwu ❤️ (@RealEmmalez) August 23, 2019
Let a vigorous campaigns begins. We must claim back that ticket from the singing Senator.

— mark abiodun (@Sijibomi764) August 23, 2019